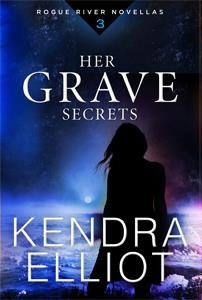 Her Grave Secrets
Author:
Kendra Elliot
Series:
Rogue River Novellas (Book 3)
Publication:
Montlake Romance (November 4, 2014)
Description:
There are no secrets in a small town—until someone has one worth dying for.
Local cop Stevie Taylor and police chief Zane Duncan have startling new proof that a deadly street drug is expanding its poisonous grip on their small town: a skull found on the banks of the Rogue River has two bullet holes in the back. Still caught up in the excitement of their new relationship, Stevie and Zane are determined to track down the drug's source before more lives in Solitude, Oregon, are lost.
Then one death strikes especially close to home, leading to heartache and confusion for Stevie. As the drug distributers strike hard and the body count in Solitude grows higher, she and Zane must hunt down the deadly killer—but are they the predators, or the prey?
Filled with unexpected twists,
Her Grave Secrets
is the third exciting Rogue River novella in the romantic suspense series from Kendra Elliot and Melinda Leigh.
My Thoughts:
The action is ratcheting up in this third of four novellas in the Rogue River series. Stevie and Zane are trying to find the drug dealers who are selling C-22 in their town. It has been confirmed that Stevie's father, the former chief of police, was a victim on the drug too. That just increases the sorrow that his family is feeling.
Stevie and Zane are also building their relationship. I like the mutual respect they have for each other along with the love. I like that they can work together and not let their relationship interfere. I like that Zane is beginning to feel more like he belongs to the town.
When Roy's body is found Stevie and Zane learn that he must have been involved in the drug sales too. He was shot execution style. Both Stevie and Zane find it hard to believe that a man they thought they knew so well could have done something so out of character.
I do have a guess about the source of the drug problem but it is just a guess and I could easily be wrong. I can hardly wait for the final novella to learn the resolution of this story.
Favorite Quote:
We don't have a drug problem.

Roy's words from the night the teen died at O'Rourke's Lake echoed in her brain. The boy had clearly died from something he ingested or injected, but Roy had been absolute in his insistence that Solitude didn't have a drug problem. Even while the evidence lay dead at his feet.
I received this eARC from Montlake Romance.
You can buy your copy here
.