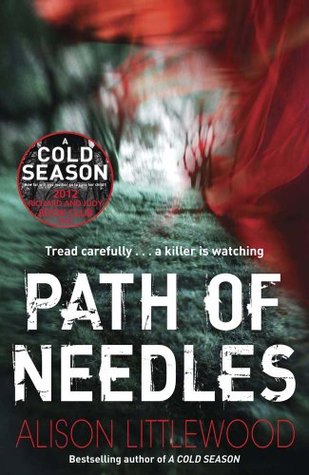 Path of Needles
Author:
Alison Littlewood
Publication:
Jo Fletcher Books (November 4, 2014)
Description:
When an expert on fairy tales is called in to consult on the investigation of bizarre murders, her premonition and insight causes suspicion; she must solve the case--and fast--to prove her innocence.
Alice Hyland is an expert on fairy tales--lecturing on the well-known stories and their lesser-known variants--and the natural choice for Police Constable Cate Corbin to consult when a dead girl is found in the woods dressed up as Snow White. Especially when the girl's grieving mother receives a parcel containing a glass bottle of blood stoppered with the dead girl's toe. Cate's boss, Detective Superintendent Heath, isn't convinced of the connection to folklore until a second girl is found, this time dressed as Red Riding Hood and with claw marks gouged into her flesh, like a wolf had been at her.
As she dives deeper into the case, Alice beings to sense a supernatural pull connecting her to the murders. A series of uncanny events seem to be pointing her in the right direction, but she's not the only one noticing; By the time a third girl is found in the local castle, Heath begins to wonder if their fairy tale expert knows too much, and Alice finds herself no longer an asset, but a suspect. But she can't stop following the clues, and her determination to solve the mystery herself and prove her innocence may lead her somewhere she can't return from.
My Thoughts:
PATH OF NEEDLES was an exciting and engaging mystery. Told from two viewpoints - young police officer Cate Corbin and college lecturer Alice Hyland - gives us two unique views of the events of this story. Cate is eager to make her mark as a police officer. She is dedicated and practical. Alice Hyland is an expert on fairy tales and lives a life that seems open to the possibilities of magic.
There lives intersect when Cate is one of the first on the scene of the murder of a young woman. Cate immediately notices things that remind her of Snow White and decides to find an expert on fairy tales to consult. Alice lives near the scene of the crime and is the logical choice. The two women hit it off. When a second victim is found and the fairy tale is Little Red Riding Hood, Alice's insights are helpful. Cate's superior officer Heath is suspicious that they are too helpful and that Alice herself might be involved. When a third victim is found mimicking still another fairy tale, things heat up. Cate is torn between her liking for Alice and her superior's suspicions.
I liked the way the author contrasted the characters of Cate and Alice. I liked the potentially magical aspects of the story in the recurring appearances of the blue bird. The author also managed to keep me in the dark about the identity of the murder until very late in the story. I had decided that another character was the criminal.
Mystery fans, fairy tale fans, and fans of police procedurals will all find something to enjoy in the well-written mystery.
Favorite Quote:
She wondered what a profiler would make of Alice's ideas. Of course, they'd probably assume the killer was a man; they usually were. She found she wanted to talk over the latest findings with Alice - or perhaps it was the reality of the girl's death that had made Cate think of her, the lecturer whose world seemed half composed of fantasy. She tried not to think of the victim, her body exhausted by drugs and bad living, tied down while some animal attacked her. Sometimes there could be too much reality; it would be comforting, after all, if it were nothing but a tale to frighten children.
I got this eARC from Edelweiss.
You can buy your copy here
.