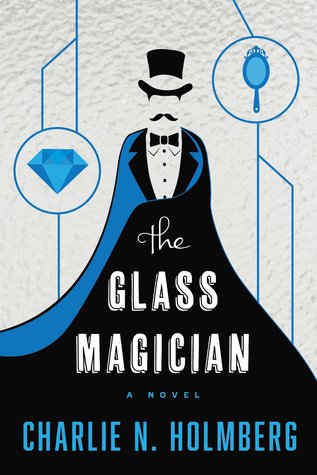 The Glass Magician
Author:
Charlie N. Holmberg
Series:
The Paper Magician, Book 2
Publication:
47North (November 4, 2014)
Description:
Three months after returning Magician Emery Thane's heart to his body, Ceony Twill is well on her way to becoming a Folder. Unfortunately, not all of Ceony's thoughts have been focused on paper magic. Though she was promised romance by a fortuity box, Ceony still hasn't broken the teacher-student barrier with Emery, despite their growing closeness.
When a magician with a penchant for revenge believes that Ceony possesses a secret, he vows to discover it…even if it tears apart the very fabric of their magical world. After a series of attacks target Ceony and catch those she holds most dear in the crossfire, Ceony knows she must find the true limits of her powers…and keep her knowledge from falling into wayward hands.
The delightful sequel to Charlie N. Holmberg's
The Paper Magician
,
The Glass Magician
will charm readers young and old alike.
My Thoughts:
In THE GLASS MAGICIAN, Ceony has to face the consequences of the events of the first book. She is still being pursued by Excisioners. She is also dealing with confessions she made to her mentor Emery Thane in the first book.
This book is also filled with adventure as Ceony is determined to take responsibility for her actions and not let anyone else face the danger that she thinks is hers to face. Her actions put her in a lot of danger and she often seems, and is, over her head as she faces villains with a lot more power and experience than she has.
I really enjoyed the new information about glass magic. But I also enjoyed the new things Ceony is learning as a paper magician. I like the way the romance between Ceony and Emery is growing even though Ceony thinks it is not progressing nearly fast enough. I also liked Ceony's friendship with her fellow apprentice Delilah.
I like the world building and the new systems of magic. The book felt quite original to me. This is an engaging series and I can't wait for the third book.
Favorite Quote:
He sighed and handed the list back to Ceony. "What a bother. This place is like a bad cold."

"Congested and tiring?"

Emery's eyes shimmered with amusement. "Precisely. I like how you think, Ceony."
I bought this one for my Kindle. You can buy your copy here.