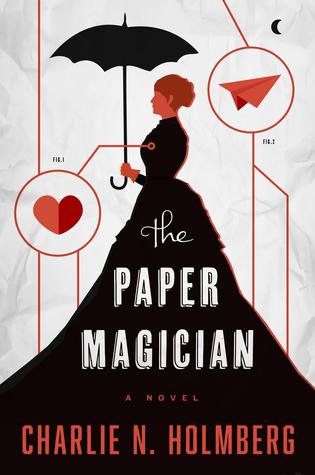 The Paper Magician
Author:
Charlie N. Holmberg
Series:
The Paper Magician Series, Book 1
Publication:
47North (September 1, 2014)
Description:
Ceony Twill arrives at the cottage of Magician Emery Thane with a broken heart. Having graduated at the top of her class from the Tagis Praff School for the Magically Inclined, Ceony is assigned an apprenticeship in paper magic despite her dreams of bespelling metal. And once she's bonded to paper, that will be her only magic…forever.
Yet the spells Ceony learns under the strange yet kind Thane turn out to be more marvelous than she could have ever imagined—animating paper creatures, bringing stories to life via ghostly images, even reading fortunes. But as she discovers these wonders, Ceony also learns of the extraordinary dangers of forbidden magic.
An Excisioner—a practitioner of dark, flesh magic—invades the cottage and rips Thane's heart from his chest. To save her teacher's life, Ceony must face the evil magician and embark on an unbelievable adventure that will take her into the chambers of Thane's still-beating heart—and reveal the very soul of the man.
From the imaginative mind of debut author Charlie N. Holmberg,
The Paper Magician
is an extraordinary adventure both dark and whimsical that will delight readers of all ages
.
My Thoughts:
THE PAPER MAGICIAN had been sitting on my TBR mountain for months until I decided to give it a try this week. I am very glad I did. I found a feisty and engaging narrator in Ceony Twill and a handsome and enigmatic mentor in Magician Emery Thane. I also found a fast-paced story filled with epic adventure.
Ceony is very disappointed when she learns that she is going to be apprenticed to a paper magician. She had her heart set on being a smelter and working with metals. But, since there are only currently 12 paper magicians, there is a need to apprentice more students to this kind of magic. Ceony is pretty sure that there are so few because paper magic is so useless.
Then she meets Magicia Emery Thane who is only about ten years older than she is. He is an enigmatic sort but treats her with kindness. In fact, when he learns that she is missing the dog who was her companion at magic school, he makes her a dog of paper that she names Fennel. The dog becomes her companion on her adventures. And, oh, what adventures...
When Thane's ex-wife who has turned to dark, forbidden magic steals his heart, Ceony quickly makes him one of paper. But that just buys a little time. She has to pursue the evil magician - the Excisioner - and get Thane's heart back. The Excisioner manages to trap Ceony in Thane's heart. She has to find her way out in order to save him. As she travels through his heart, she learns all sorts of things about him. She finds herself falling in love with him while she is on this journey.
I can't wait to read THE GLASS MAGICIAN to find out what happens next.
Favorite Quote:
As Ceony stood, she realized she didn't want to leave this vision. This hope buried deep in Emery's heart, so crisp and real that she could smell the sugar welling deep within the flowers' stems and feel the lingering heat of the sun that seemed frozen in its descent. It was such a wonderful hope. Ceony wondered if her own heart could create something even half as stunning as this.

She touched Emery's hand where it rested on the blanket, and found that, for once, she didn't immediately phase through it. Instead, it felt like touching glass. "I'll take care of you," she said. "You'll have this day. I promise."
I bought this one for my Kindle. You can buy your copy here.