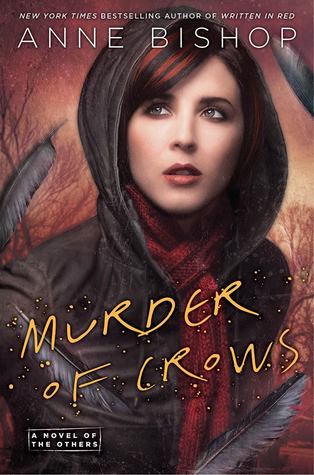 Murder of Crows
Author:
Anne Bishop
Series:
Others, Book 2
Publication:
Roc; Reprint edition (March 4, 2014)
Description:
After winning the trust of the
terra indigene
residing in the Lakeside Courtyard, Meg Corbyn has had trouble figuring out what it means to live among them. As a human, Meg should be barely tolerated prey, but her abilities as a
cassandra sangue
make her something more.
The appearance of two addictive drugs has sparked violence between the humans and the Others, resulting in the murder of both species in nearby cities. So when Meg has a dream about blood and black feathers in the snow, Simon Wolfgard—Lakeside's shape-shifting leader—wonders if their blood prophet dreamed of a past attack or a future threat.
As the urge to speak prophecies strikes Meg more frequently, trouble finds its way inside the Courtyard. Now, the Others and the handful of humans residing there must work together to stop the man bent on reclaiming their blood prophet—and stop the danger that threatens to destroy them all.
My Thoughts:
This middle book in a trilogy was another excellent urban fantasy novel. Blood Prophet Meg Corbyn has escaped to the Courtyard in Lakeside. It is one of the most liberal courtyards and the one that has the closest relationship with humans. Simon Wolfgard is the wolf in charge. But the courtyard also has crowgard, sanguinati, Elementals, and one Other that even the others are afraid of.
The plot is this one has to do with the treatment of the other blood prophets. The Controller has spent time, energy and lives to try to recover Meg. But Meg has found a place in the Courtyard and is especially cherished by the sanguinati who call her a sweet blood but who have rules that mean they can't have her blood. Simon confirms that Meg's blood - that is, blood prophet blood - is the source of two drugs - gone over wolf and feel-good - that are causing problems between the humans and the Others.
Tensions are as high as they can be between humans and Others but only a few of the humans know how powerless they really are if the Others decide that the humans are no longer useful. Lieutenant Montgomery is a new transfer to Lakeside and he is determined to do what he can to ease tensions. He also wants to develop a better working relationship between humans and Others.
I thought the romance was interesting too. Add the fact that Meg and Simon are different species to the usual male-female communication communication issues and you can see why both are confused about just what kind of relationship they have. It doesn't help at all the Meg is just learning to live outside the complete control of everything that was her life before she escaped from the Controller.
This was a great story. I can wait to read the next book in this trilogy.
Favorite Quote:
He ran until he was tired enough that his first thought wasn't tearing out Steve Ferryman's throat just for being male. He shouldn't feel that way, didn't understand why he felt that way.

Meg had been a source of confusion since he hired her to be the Courtyard's Human Liaison. His response to Ferryman was just another example of how she muddled him up.
I bought this one for my Kindle.
You can buy your copy here
.