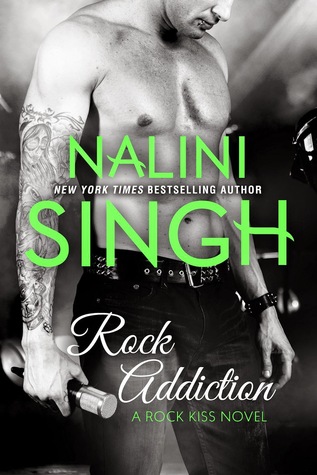 Rock Addiction
Author:
Nalini Singh
Series:
Rock Kiss
Publication:
TKA Distribution (September 11, 2014)
Description:
A bad boy wrapped in a sexy, muscled, grown-up package might be worth a little risk…
Molly Webster has always followed the rules. After an ugly scandal tore apart her childhood and made her the focus of the media's harsh spotlight, she vowed to live an ordinary life. No fame. No impropriety. No pain. Then she meets Zachary Fox, a tattooed bad boy rocker with a voice like whiskey and sin, and a touch that could become an addiction.
A one-night stand with the hottest rock star on the planet, that's all it was meant to be…
Fox promises scorching heat and dangerous pleasure, coaxing Molly to extend their one-night stand into a one-month fling. After that, he'll be gone forever, his life never again intersecting with her own. Sex and sin and sensual indulgence, all with an expiration date. No ties, no regrets. Too late, Molly realizes it isn't only her body that's become addicted to Fox, but her heart…
My Thoughts: ROCK ADDICTION was an excellent, spicy romance that I couldn't put down. Molly Webster is determined to live an ordinary life as a librarian. She has overcome the scandal of her teenage years when her politician father was caught in an affair with one of her classmates and when her parents died in a car accident in a car driven by her alcoholic mother. Molly is determined never to be in the public eye again.
However, she has long had a crush on rock star Zachary Fox whom she knows only from the gossip magazines she likes to read. When she attends a party with her sister, she catches his eye. He takes one look at her and decides that she is the one for him. He talks her into a one-night stand and then a one month affair but has no intention of ever letting her go.
Fox has issues of his own. Childhood abandonment by his mother has warped his view of love and relationships. He has, however, created his own new family with his band mates and a few other select friends. Forming a relationship with Molly won't be at all easy.
I liked the way both characters were strong, but damaged, people. I liked the way they gradually built their relationship. I liked the way each of them had built families by choice since their birth families had proved to be so disappointing. I liked the way Molly and Fox stood up to each other to get what they needed.
Fans of spicy romance with well-rounded characters will enjoy this story. I'm eager to read the stories of the secondary characters too.
Favorite Quote:
No, she didn't want excitement. What she wanted was blissful normality: a job she liked; a steady, faithful man; a house on an ordinary suburban street; a sedate minivan with room in back for the slobbering family dog. But...when she was living that safe, stable life, the memory of her night with a smart, sexy, roughly tender rock star would be a hidden treasure, a quiet acknowledgment of the other Molly. The Molly who might've lived a life more adventurous and less ordinary in another time, another place...a Molly who, in this world, was a little too broken to ever be permitted to hold the reins.
I bought this one for my Kindle.
You can buy your copy here
.