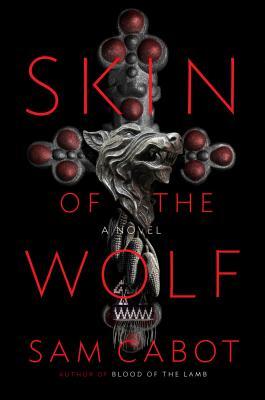 Skin of the Wolf
Author:
Sam Cabot
Publication:
Blue Rider Press (July 31, 2014)
Description:
Sam Cabot is the pseudonym of Carlos Dews and S.J. Rozan. In Sam Cabot's exhilarating new novel, a vicious murder in Sotheby's begins a series of inexplicable events surrounding an Iroquois ritual mask—and a secret that could unleash the most terrifying chaos and destruction the world has ever seen.
Months after Father Thomas Kelly, art historian Livia Pietro, and scholar Spencer George found themselves racing through Rome in a desperate effort to locate and preserve an incalculably valuable docu-ment, the three are about to be reunited in New York City. Thomas, still trying to assimilate what he learned—that vampires exist, and that Livia and Spencer are among them—is looking forward to seeing Livia again. Livia is excited to be allowed into the back room of Sotheby's for an exclusive viewing of an ancient Iroquois mask. And Spencer's in love. But before the three can meet, Spencer is badly injured when he's inexplicably attacked in Central Park—by a wolf.
That same night, a Sotheby's employee is found brutally murdered. Steps from her body is the mysterious native mask, undamaged amid the wreckage of a struggle. As rumors begin to swirl around the sacred object, Thomas, Livia, and Spencer are plunged deep into a world where money, Native American lore, and the history of the Catholic Church collide. They uncover an alarming secret: The wolf is a shapeshifter, and the mask contains a power that, if misused, could destroy millions of lives with the next full moon.
In
Skin of the Wolf,
Sam Cabot masterfully blends historical fact, backroom conspiracy, and all-encompassing alternate reality as the Noantri discover they aren't the only humans set apart by their natures—there are Others.
My Thoughts
: SKIN OF THE WOLF was a fascinating thriller that reunites Father Thomas Kelly, Livia Pietro and Spencer George in New York where they get involved in a case that includes deeply hidden secrets, ancient Native artifacts, and a people who have been as hidden as the Noantri.
Livia is excited to be allowed to view a very rare and ancient Iroquois mask of a wolf at Sotheby's as it is getting ready to go to auction. However, her Noantri skills lead her to believe that the mask is a fake. When a young woman who is getting the artifacts ready is brutally murdered by what looks like and animal attack and Spencer and his new boyfriend Dr. Michael Bonnard are attacked by a wolf in Central Park, things get more and more complicated.
Michael and his brother Edward are twins and Mohawk Indians. They have gone their separate ways, though, with Michael taking the path of science and becoming a researcher and Edward following his Indian roots and beliefs. Both are also shapeshifters. Michael has been using science to try to understand why shapeshifting occurs and trying to identify others who might possess the gene. Edward is more interested in recreating the ceremony that made them shifters and making new shifters wholesale so that they can throw the white men off the continent.
All parties are in a mad dash to try to find the real Iroquois wolf mask, though each has a different agenda. Michael fears that Edward's plan will set up Indian people for persecution whether or not they have the shifting gene. The Noantri know what it is like for those who are different to be exposed and are eager to help keep that exposure from happening. Edward needs the mask to fulfill his vision for an Indian controlled future.
The pace in this thriller was fast. The information about Indian Art and those who collect it added richness and depth to the story. And, who doesn't want to believe that the Catholic Church is filled with secrets? I haven't read the first book in this series but, now, I really want to. I need to find out how these three characters became friends and what it was that brought them together.
Favorite Quote:
What Michael saw, though, was Native pieces everywhere. The carpets on the parquet were Navajo rugs; Hopi masks hung from the moldings. On a rough chest stood a pair of Mohawk wedding baskets, the kind his parents had exchanged in the Longhouse. Ojibwe dream catchers swayed overhead, and a beaded, fringed shawl lay over the railing, The dining table was made of thick, uneven timbers and surrounded by hand-built chairs. the air jangled with the mismatched confusion of it all.
I bought this one.
You can buy your copy here
.