Book Beginnings on Friday is now hosted by Rose City Reader.
The Friday 56
is hosted at
Freda's Voice. Check out the links above for the rules and for the posts of the participants each week.
Don't dig for your favorite book, the coolest, the most intellectual. Use the CLOSEST.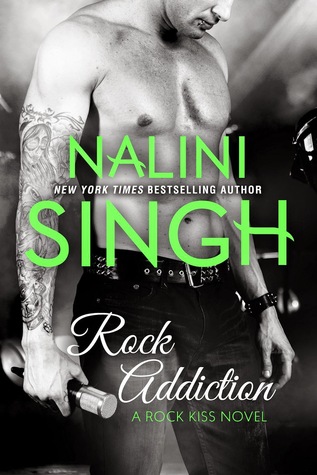 This week I am spotlighting Rock Addiction by Nalini Singh. This is a contemporary romance. I am a big fan of her urban fantasy and paranormal romance books and wanted to try this one. Here is the description:
A bad boy wrapped in a sexy, muscled, grown-up package might be worth a little risk…

Molly Webster has always followed the rules. After an ugly scandal tore apart her childhood and made her the focus of the media's harsh spotlight, she vowed to live an ordinary life. No fame. No impropriety. No pain. Then she meets Zachary Fox, a tattooed bad boy rocker with a voice like whiskey and sin, and a touch that could become an addiction.

A one-night stand with the hottest rock star on the planet, that's all it was meant to be…

Fox promises scorching heat and dangerous pleasure, coaxing Molly to extend their one-night stand into a one-month fling. After that, he'll be gone forever, his life never again intersecting with her own. Sex and sin and sensual indulgence, all with an expiration date. No ties, no regrets. Too late, Molly realizes it isn't only her body that's become addicted to Fox, but her heart…
Beginning:
Her smile smashed into him with stunning force.
Friday 56:
Damned right he'd touched Molly. And he planned to do it again. "She's mine." Sex usually worked women out of his system; it had only worked Molly in deeper.