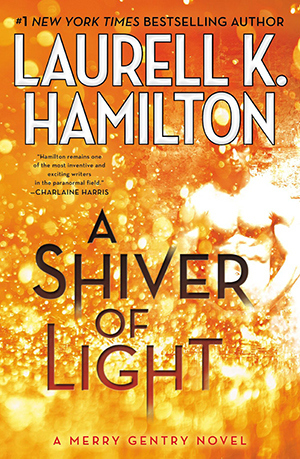 A Shiver of Light
Author:
Laurell K. Hamilton
Series:
Merry Gentry (Book 9)
Publication:
Berkley (June 3, 2014)
Description:
I am Princess Meredith NicEssus. Legal name Meredith Gentry, because "Princess" looks so pretentious on a driver's license. I was the first faerie princess born on American soil, but I wouldn't be the only one for much longer...
Merry Gentry, ex–private detective, now full-time princess, knew she was descended from fertility goddesses, but when she learned she was about to have triplets, she began to understand what that might mean. Infertility has plagued the high ranks of faerie for centuries. Now nobles of both courts of faerie are coming to court Merry and her men, at their home in exile in the Western Lands of Los Angeles, because they will do anything to have babies of their own.
Taranis, King of Light and Illusion, is a more dangerous problem. He tried to seduce Merry and, failing that, raped her. He's using the human courts to sue for visitation rights, claiming that one of the babies is his. And though Merry knows she was already pregnant when he took her, she can't prove it.
To save herself and her babies from Taranis she will use the most dangerous powers in all of faerie: a god of death, a warrior known as the Darkness, the Killing Frost, and a king of nightmares. They are her lovers, and her dearest loves, and they will face down the might of the high courts of faerie—while trying to keep the war from spreading to innocent humans in Los Angeles, who are in danger of becoming collateral damage.
My Thoughts:
The story begins with Merry learning that she is not having twins but rather triplets. Almost immediately thereafter she does - two girls and a boy. Now the issue of which of her lovers are the fathers of her children needs to be answered. It especially needs to be answered so that King Taranis of the Seelie Court doesn't get control of any of them. Besides being Merry's uncle, he is also crazy, and very, very powerful. One of his powers lets him come to Merry in dreams and threaten and try to coerce her.
Merry also has to deal with her Aunt Andais who is the Queen of Air and Darkness and also crazy. Having an aunt who tries to kill her when she was six, makes Merry very unwilling to let her anywhere near her babies but her power makes her someone they don't want to offend. Especially since Andais feels that she can call back Merry's guards and lovers at any time.
The story was fast-paced and filled with the twisted politics of faerie. It was also filled with the love that Merry has for all her lovers and her children. The point is made that Merry is building a new faerie that is ruled by love rather than the capricious actions of her aunt Andais or her uncle Taranis. Merry's new relationship with the goddess is not only expanding the reach of faerie into Los Angeles but also bring fertility to the previously infertile members of faerie who are part of her court.
I enjoyed this story very much.
Favorite Quote:
"It would have been easier if their magic had waited," I said.

"It would, but I do not think our path was ever meant to be easy, my Merry; wondrous, beautiful, exciting, thrilling, even frightening, but not easy."
I bought this one for my Kindle.
You can buy your copy here
.