Happy Friday everybody!
Book Beginnings on Friday is now hosted by Rose City Reader.
The Friday 56
is hosted at
Freda's Voice. Check out the links above for the rules and for the posts of the participants each week.
Don't dig for your favorite book, the coolest, the most intellectual. Use the CLOSEST.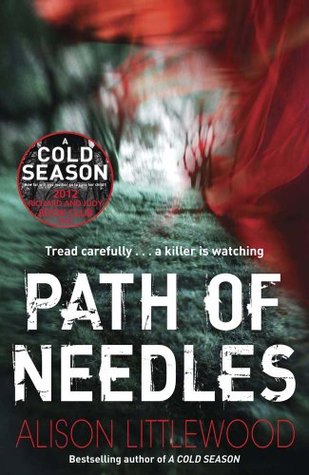 This week I am spotlighting Path of Needles by Alison Littlewood. I got this eARC from Edelweiss. Here is the description:
When an expert on fairy tales is called in to consult on the investigation of bizarre murders, her premonition and insight causes suspicion; she must solve the case--and fast--to prove her innocence.

Alice Hyland is an expert on fairy tales--lecturing on the well-known stories and their lesser-known variants--and the natural choice for Police Constable Cate Corbin to consult when a dead girl is found in the woods dressed up as Snow White. Especially when the girl's grieving mother receives a parcel containing a glass bottle of blood stoppered with the dead girl's toe. Cate's boss, Detective Superintendent Heath, isn't convinced of the connection to folklore until a second girl is found, this time dressed as Red Riding Hood and with claw marks gouged into her flesh, like a wolf had been at her.

As she dives deeper into the case, Alice beings to sense a supernatural pull connecting her to the murders. A series of uncanny events seem to be pointing her in the right direction, but she's not the only one noticing; By the time a third girl is found in the local castle, Heath begins to wonder if their fairy tale expert knows too much, and Alice finds herself no longer an asset, but a suspect. But she can't stop following the clues, and her determination to solve the mystery herself and prove her innocence may lead her somewhere she can't return from.
Beginning:
When Alice Hyland woke, she knew that a new year had begun. No matter that it was April instead of January; to her mind a new year meant new life, and she knew that daffodils would be pushing green shoots up through the cold dark earth and the sun would be shining over the top of Newmillerdam Wood.
Friday 56:
She was discovered by passers-by shortly after her mother, Angela - Angie Farrell - had the box hand delivered to her home, containing a bottle of blood, most likely her daughter's, with the severed toe used as a stopper.