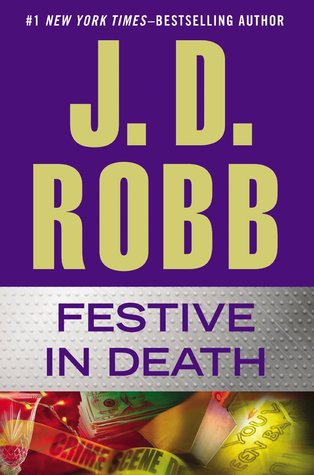 Festive in Death
Author:
J. D. Robb
Series:
In Death (Book 39)
Publication:
Putnam Adult (September 9, 2014)
Description:
Eve Dallas deals with a homicide—and the holiday season—in the latest from the #1 New York Times bestselling author.
Personal trainer Trey Ziegler was in peak physical condition. If you didn't count the kitchen knife in his well-toned chest.
Lieutenant Eve Dallas soon discovers a lineup of women who'd been loved and left by the narcissistic gym rat. While Dallas sorts through the list of Ziegler's enemies, she's also dealing with her Christmas shopping list—plus the guest list for her and her billionaire husband's upcoming holiday bash.
Feeling less than festive, Dallas tries to put aside her distaste for the victim and solve the mystery of his death. There are just a few investigating days left before Christmas, and as New Year's 2061 approaches, this homicide cop is resolved to stop a cold-blooded killer.
My Thoughts:
In this 39th book in the In Death series Eve is getting ready for Christmas when she catches a case. Her hair and body consultant, the terrifying Trina, discovers the body of a personal trainer who had just broken off a relationship with a friend of hers.
The more Eve learns about the murdered Trey Ziegler, the less she likes him. He was a narcissistic user who drugged, raped and blackmailed. The list of women he did wrong and the men in their lives is really, really long. She has quite an array of suspects. As she and Peabody interview the variety of cheating spouses, Eve takes the time to articulate her views of marriage and the promises that are its core.
As the list of suspects narrow and Christmas gets closer, Eve is determined to get things done before the holidays. I love Eve's relationships with her friends. She is still getting used to the idea of having friends, of letting people into her life. I love how well she knows them and how she manages to get each one the perfect Christmas gift despite waiting until the last minute to get them.
I also love Eve's relationship with Roarke. Neither one of them takes the relationship they have for granted. Both are willing to work to keep it. I love the way that they continue to surprise and delight each other.
This is a marvelous series. I read it because I love Eve and Roarke. The mysteries are a side issue for me. This one had an intriguing one that kept me guessing up until the end. I can't wait to see what comes next.
Favorite Quote:
"I wouldn't have cheated in the first place."

"Well, yeah, but—"

"There's no 'but.'" Eve pulled open the car door, slid in. "You go into marriage, you plow a road. You're going to hit rough patches, and some may be rougher and last longer than others, but you've got choices to make. You work to smooth them out, you hold until they do, or they don't. You stick with the road, or you get off. But you don't do something to make it worse, don't do something that maybe makes you feel better for the short term while it sucker punches the person you're married to."
I bought this one.
You can buy your copy here
.