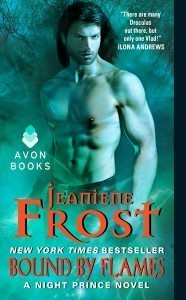 Bound by Flames
Author:
Jeaniene Frost
Series:
Night Prince (Book 3)
Publication:
Avon (January 27, 2015)
Description:
The climactic third novel in
New York Times
bestselling author Jeaniene Frost's Night Prince series finds Vlad and his newly turned bride, Leila, at odds with each other—and vulnerable to the one vampire powerful enough to end the Dark Prince's reign . . .
Play with fire, pay the price
Leila's years on the carnie circuit were certainly an education. What she didn't learn: how to be a vampire, or how to be married to the most famous vampire of them all. Adjusting to both has Leila teetering on a knife edge between passion and peril, and now the real danger is about to begin . . .
Vlad must battle with a centuries-old enemy whose reach stretches across continents and whose strength equals his own. It isn't like Vlad to feel fear, but he does . . . for Leila, because his enemy knows she is Vlad's greatest weakness. As friend and foe alike align against him—and his overprotectiveness drives Leila away—Vlad's love for his new bride could be the very thing that dooms them both . . .
My Thoughts:
In this third book in the Night Prince series, Leila and Vlad are trying to build a marriage between two strong people with quite an age difference. Vlad has had centuries to learn to protect his heart. He has also had centuries with absolute power over his people. Leila is a twenty-first century woman who isn't going to put up with a dictator as a husband. But it is hard to work on a marriage when an ancient enemy of Vlad's is getting closer.
Leila is kidnapped and tortured and videoed. When the videos reach Vlad he becomes even more determined to track down and kill his enemy. His enemy knows that Leila is Vlad's greatest weakness. What he doesn't know is that Leila isn't weak. She isn't going to let the enemy defeat her or her husband.
The story is action and emotion packed and filled with emotional intensity. I liked the strong love between Vlad and Leila and loved reading about both of them fighting to build a relationship. I liked the way Vlad interacted with Leila's family. This is a great urban fantasy series. I can't wait for the next book.
Favorite Quote:
"Because love cuts deeper than the sharpest blade, cripples more than shattered bones, and leaves scars that can never fade."
This book is from my TBR mountain. You can buy your copy here.