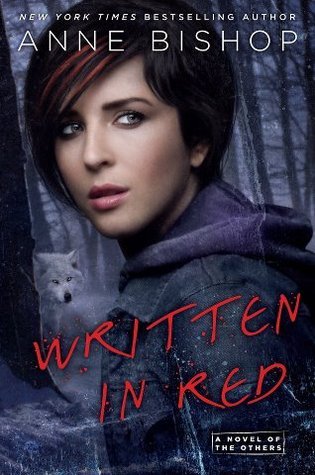 Written in Red
Author:
Anne Bishop
Series:
Others (Book 1)
Publication:
Roc; Reissue edition (March 5, 2013)
Description:
As a
cassandra sangue
, or blood prophet, Meg Corbyn can see the future when her skin is cut—a gift that feels more like a curse. Meg's Controller keeps her enslaved so he can have full access to her visions. But when she escapes, the only safe place Meg can hide is at the Lakeside Courtyard—a business district operated by the Others.
Shape-shifter Simon Wolfgard is reluctant to hire the stranger who inquires about the Human Liaison job. First, he senses she's keeping a secret, and second, she doesn't smell like human prey. Yet a stronger instinct propels him to give Meg the job. And when he learns the truth about Meg and that she's wanted by the government, he'll have to decide if she's worth the fight between humans and the Others that will surely follow.
My Thoughts:
I am really, really sorry that it has taken me so long to discover Anne Bishop's Others series. The world building is amazing. This is the first urban fantasy I recall where the humans are in the minority and live at the sufferance of the Others.
Meg Corbyn is on the run from the compound where she has been held captive and used to supply prophecies for her owners. She is a blood prophet - cassandra sangre - who has very little real world experience. She runs to the Lakeside Courtyard - the domain of the Others - where human law does not apply and gets the job as the Human Liaison. She becomes the interface between the humans and the Others.
Meg's boss is wolf-shifter Simon Wolfgard who is the leader of the Courtyard. He knows she is keeping a secret and she doesn't smell like prey which makes him curious about her. Meg quickly finds a place in the Courtyard making friends among the Others.
However, Meg is a very valuable piece of property and her owner wants her back. We see the story from lots of points of view. Human Asia Crane has been sent by her employer to get information about the Courtyard and she is doing everything, including trying to befriend Meg, to try to find an in. She is really self-centered and has her eye on a television career which she has been promised if she gets the information her employer wants.
There are so many kinds of Others in this story - wolfgard, crowgard, hawkgard, vampires, elementals - and each one is unique and well-developed. And the Others are not humans in disguise. They think differently than humans do. None of the humans in the courtyard, with the possible exception of Meg, forgets that to the Others they are just meat.
I loved Meg's relationship with Sam who is a cub who was traumatized by watching his mother killed before his eyes. Meg's techniques may anger the other wolves but they can't deny that those techniques are bringing Sam out of his grief.
I am so glad that I don't have to wait to read the next two books in this series.
Favorite Quote:
"Whether you're beaten or pampered, fed the best foods or starved, kept in filth or kept clean, a cage is still a cage," Meg said with fierce passion.
I bought this one when it was a Kindle Daily Deal.
You can buy your copy here
.