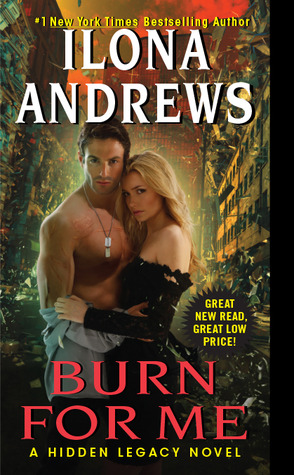 Burn for Me
Author:
Ilona Andrews
Series:
Hidden Legacy (Book 1)
Publication:
Avon (October 28, 2014)
Description:
#1
New York Times
bestselling author Ilona Andrews launches a brand-new Hidden Legacy series, in which one woman must place her trust in a seductive, dangerous man who sets off an even more dangerous desire . . .
Nevada Baylor is faced with the most challenging case of her detective career—a suicide mission to bring in a suspect in a volatile situation. Nevada isn't sure she has the chops. Her quarry is a Prime, the highest rank of magic user, who can set anyone and anything on fire.
Then she's kidnapped by Connor "Mad" Rogan—a darkly tempting billionaire with equally devastating powers. Torn between wanting to run and wanting to surrender to their overwhelming attraction, Nevada must join forces with Rogan to stay alive.
Rogan's after the same target, so he needs Nevada. But she's getting under his skin, making him care about someone other than himself for a change. And, as Rogan has learned, love can be as perilous as death, especially in the magic world.
My Thoughts:
I was completely blown away by BURN FOR ME which begins an new urban fantasy series. The main character and the narrator of the story is Nevada Baylor. She and her family - mother, grandmother, younger sisters and younger cousins - run a small private investigations business. She isn't a member of any of the magical houses that have divided up Houston and she isn't known to be a powerful magic user.
When her father was dying, the family mortgaged the business to Montgomery International Investigations. Now MII has invoked one clause of the contract and has demanded that Nevada locate a powerful Prime named Adam Pierce and turn him over to his family. MII knows Nevada is overmatched; they want her to fail.
Adam's magical power is fire-starting and he is on a rampage through Houston. Houston cops are eager to shoot him on sight. Nevada has no choice but to try to track him down and convince him to surrender to his House.
Mad Rogan is also interested in finding Adam Pierce. Rogan's cousin's son was with Pierce when he firebombed a bank and killed a guard. The boy is now also wanted for murder. Rogan's loyalty to his family is his trigger. Rogan is an immensely talented magic user who can bring down buildings. He had a successful military career and has become an object of fear to most.
Nevada isn't interested in working with Rogan, especially when their relationship begins with him kidnapping her and trying to force her to tell him what she knows about Pierce. Nevada uses her own not-inconsiderable magical talents to thwart him.
The two do work together despite gross reservations on Nevada's part. She is fascinated by him and sexually attracted to him but she doesn't like him or the way he lives his life. She can't trust him and believes that he is a psycopath. Beyond the action scenes which were very prevalent and dramatic, the whole book is a flirtation between the two of them. They are learning about each other and getting to want each other more with each page. Many of the scenes between them are super hot and packed with romantic tension.
I loved Nevada's voice and her determination to protect her family. I liked her strong values and her determination to be able to look herself in the face at the end of each day. This determination guides her actions and illuminates her character.
The only bad part about reading an October release in July is that I will have to wait so terribly long for the next book in this series. I wonder if I can pre-order it yet?
Favorite Quote:
My wrists and ankles were bleeding. My knees too--I must've scraped myself trying to draw the circle. So far today I'd seen a woman almost die, I'd shot a person, I'd killed another person with my shockers, I'd been strung up on wires and almost crushed by a car, and now I was bleeding all over the place. If I could, I would punch today right in the face.
I got this ARC through Amazon Vine.
You can buy your copy here
.