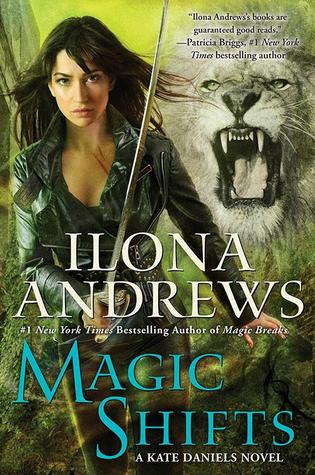 Magic Shifts
Author:
Ilona Andrews
Series:
Kate Daniels (Book 8)
Publication:
Ace (August 4, 2015)
Description:
In the latest Kate Daniels novel from #1 New York Times bestselling author Ilona Andrews, magic is coming and going in waves in post-Shift Atlanta—and each crest leaves danger in its wake…
After breaking from life with the Pack, mercenary Kate Daniels and her mate—former Beast Lord Curran Lennart—are adjusting to a very different pace. While they're thrilled to escape all the infighting, Kate and Curran know that separating from the Pack completely is a process that will take time.
But when they learn that their friend Eduardo has gone missing, Kate and Curran shift their focus to investigate his disappearance. Eduardo was a fellow member of the Mercenary Guild, so Kate knows the best place to start looking is his most recent jobs. As Kate and Curran dig further into the merc's business, they discover that the Guild has gone to hell and that Eduardo's assignments are connected in the most sinister way…
An ancient enemy has arisen, and Kate and Curran are the only ones who can stop it—before it takes their city apart piece by piece.
My Thoughts:
This most recent Kate Daniels adventure has she and Curran living in the suburbs with Julie and adjusting to not being the Beast Lord and the Consort. When their friend Eduardo disappears, they are determined to find him. There are also issues with ghouls organizing themselves into large groups and a magical jewel granting wishes and turning people into giants.
Kate and Curran also have to get involved in the Mercenary Guild before is manages to destroy itself. Between them, they own 36% of it and, with their current cash flow problems, it would be quite a loss to them. Besides, Curran is a leader and needs a new challenge. Whipping the Guild into shape would be a good thing for him to do.
Along with all that we also have Kate's father building a new tower right outside Atlanta. Kate has some major father issues and I love the interactions between the two of them. This story focuses on the mythology of the Middle East for its magical creatures.
Fans of this excellent urban fantasy series won't want to miss this episode.
Favorite Quote:
"Answer me this, did you hesitate at all or did you see the giant, go 'Whee!' and run toward it?"

"She ran toward it, " Juke quipped.

"He was biting people in half."

"I rest my case," Curran said.
I bought this one.
You can buy your copy here
.