Teaser Tuesdays is a weekly bookish meme, hosted by MizB of A Daily Rhythm. Anyone can play along! Just do the following:
Grab your current read
Open to a random page
Share two (2) "teaser" sentences from somewhere on that page
BE CAREFUL NOT TO INCLUDE SPOILERS! (make sure that what you share doesn't give too much away! You don't want to ruin the book for others!)
Share the title and author, too, so that other TT participants can add the book to their TBR Lists if they like your teasers!
Teaser:
I rode through the night-drenched streets of Atlanta on a mammoth donkey. The donkey's name was Cuddles. She was ten feet tall, including the ears, and her black-and-white hide suggested she might have held up a Holstein cow in some dark alley and was now wearing her clothes.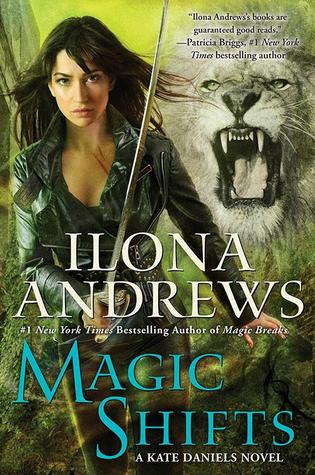 My teaser this week comes from the latest by Ilona Andrews -
Magic Shifts
. It is the 8th in the Kate Daniels series. Here is the description from Amazon:
In the latest Kate Daniels novel from #1 New York Times bestselling author Ilona Andrews, magic is coming and going in waves in post-Shift Atlanta—and each crest leaves danger in its wake…

After breaking from life with the Pack, mercenary Kate Daniels and her mate—former Beast Lord Curran Lennart—are adjusting to a very different pace. While they're thrilled to escape all the infighting, Kate and Curran know that separating from the Pack completely is a process that will take time.

But when they learn that their friend Eduardo has gone missing, Kate and Curran shift their focus to investigate his disappearance. Eduardo was a fellow member of the Mercenary Guild, so Kate knows the best place to start looking is his most recent jobs. As Kate and Curran dig further into the merc's business, they discover that the Guild has gone to hell and that Eduardo's assignments are connected in the most sinister way…

An ancient enemy has arisen, and Kate and Curran are the only ones who can stop it—before it takes their city apart piece by piece.