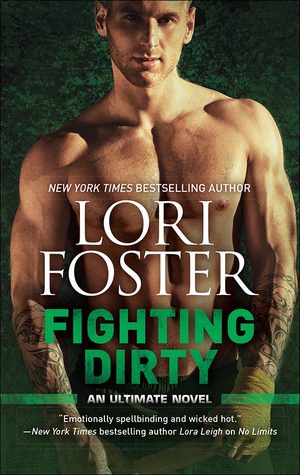 Fighting Dirty
Author:
Lori Foster
Series:
Ultimate Novel (Book 4)
Publication:
HQN Books (February 23, 2016)
Description: He's the hottest MMA fighter in the game, but one woman is ready to try out a few steamy moves of her own in an unforgettable new novel from
New York Times
bestselling author Lori Foster
With the life he's led and the muscles he's gained, Armie Jacobson isn't afraid of anything. Except maybe Merissa Colter's effect on him. It's not just that she's his best friend's little sister. Fact is, she deserves better. Women pursue him for one night of pleasure, and that's all he wants to offer. Until rescuing Merissa from a robbery leads to the most erotic encounter of his life.
Good girl meets bad boy. It's a story that rarely ends well. But Merissa is taking matters into her own hands. No matter how he views himself, the Armie she knows is brave, honorable and completely loyal. And as past demons and present-day danger collide, they're both about to learn what's truly worth fighting for…
My Thoughts:
Merisa has loved her brother Cannon's best friend Armie ever since she was sixteen. But he sees her as a good girl and someone who is way out of his league. Though everyone else sees a man who is brave, honorable, loyal - and totally hot, Armie sees himself as somehow unworthy. After all his mother walked out on him and his father always put him down. Merissa has decided that enough is enough and she is ready to make her play for Armie.
However, this may not be the best time. Her old boyfriend Steve has decided that he wants her back. She also seems to be an epicenter of a crime wave. And old problems are coming back to haunt Armie just as he is about to make it big as an Ultimate fighter. Armie thinks the best way to protect Merissa from the dirt that could cover him is to keep her at arm's length. Merissa isn't willing to step aside and she is more than ready to stand at his side while he fights.
The story is filled with action. Oh, and there were some really hot sex scenes too. I really enjoyed this romance. I liked Armie very much and I loved that Merissa was determined to get her man. I also loved seeing the relationships among the fighters and their women. It was good to reconnect with characters that I met in the earlier books in this series.
Fans of romantic suspense who like a little spice in their romances will enjoy this series. It was my favorite of the series.
Favorite Quote:
"That's it, isn't it? You being the man-whore that you are, you're never content with one girl and that particular girl didn't want to share so she spread those lies to...what? Get even with you?"

"I'm not a man-whore."

"Oh, please." How Armie could deny that with a straight face, she didn't know. "Total man-whore. But so what? You're an adult and if you want to sow enough wild oats for a battalion, it's your own business."

I got this eARC from NetGalley.
You can buy your copy here
.