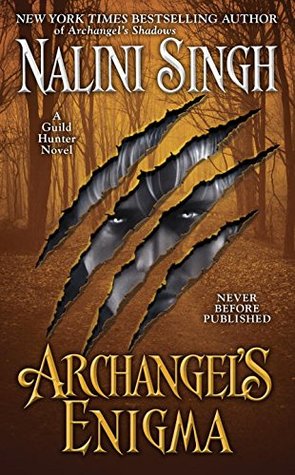 Archangel's Enigma
Author:
Nalini Singh
Series:
Guild Hunter (Book 8)
Publication:
Jove (September 1, 2015)
Description:
Naasir is the most feral of the powerful group of vampires and angels known as the Seven, his loyalty pledged to the Archangel Raphael. When rumors surface of a plot to murder the former Archangel of Persia, now lost in the Sleep of the Ancients, Naasir is dispatched to find him. For only he possesses the tracking skills required - those more common to predatory animals than to man.
Enlisted to accompany Naasir, Andromeda, a young angelic scholar with dangerous secrets is fascinated by his nature - at once playful and brilliant, sensual and brutal. As they race to find the Sleeping archangel before it's too late, Naasir will force her to question all she knows...and tempt her to walk into the magnificent, feral darkness of his world. But first they must survive an enemy vicious enough to shatter the greatest taboo of the angelic race and plunge the world into a screaming nightmare...
My Thoughts:
This is Naasir's story. He is the most unique of all of Raphael's seven. Almost feral, but able to put on a civilized veneer, Naasir had decided that it is time to find a mate of his own. However, he will have to work his mate hunt around a task given him by Raphael. The evil Archangel Lijuan has decided that she needs to kill the sleeping Ancient Alexander if she is to conquer the world. Raphael doesn't want that to happen. So he sends Naasir, along with a young angel named Andromeda who is a noted scholar, to find Alexander's hidden resting place and wake him before Lijuan finds him and kills him.
Andromeda is on borrowed time. She is soon facing her 400th birthday which means that she will have to return home to her grandfather Charisemnon's court for 500 years because of a blood vow. Andromeda doesn't want to do that because she despises and fears the depravity of her grandfather's court. When she and Naasir meet, they form an immediate connection because she seems him as he is and likes him as himself. He has no need to put on a civilized veneer for her.
What I especially liked about this episode was that Naasir has a unique viewpoint and we see it clearly in the writing. He sees the world much differently than any of the other characters in the series. His determination to win Andi's heart and make her his mate guides him. However, he wants to woo her rather than force her and he respects who she is and the promises she has made. I also really like the descriptions of the places in this book. Andi's love for the African savanna shines through. As does Naasir's dislike of anyplace that is cold.
This book fits into a wider story arc. The bigger political issue about Lijuan and her aims isn't settled in this story. However, her actions are helping gather current rivals into a coalition against her. Meanwhile, the angelic society is also going through a Cascade which is giving some of them unpredictable powers which is also driving the plot.
Fans of the series won't want to miss this episode. Naasir and Andi's romance was an excellent addition to the series.
Favorite Quote:
She folded her arms and stood in place. "I'm not stripping off unless you turn your back."

He bared his teeth at her, but did as she asked. Dmitri had taught him that he must never take what a woman didn't want to give.

Do not steal what only has value if freely given.
I bought this one for my Kindle.
You can buy your copy here
.