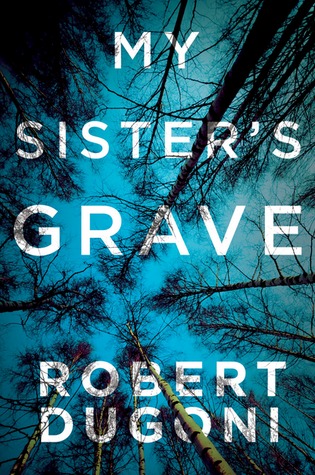 My Sister's Grave
Author:
Robert Dugoni
Publication:
Thomas & Mercer (November 1, 2014)
Description:
Tracy Crosswhite has spent twenty years questioning the facts surrounding her sister Sarah's disappearance and the murder trial that followed. She doesn't believe that Edmund House—a convicted rapist and the man condemned for Sarah's murder—is the guilty party. Motivated by the opportunity to obtain real justice, Tracy became a homicide detective with the Seattle PD and dedicated her life to tracking down killers.
When Sarah's remains are finally discovered near their hometown in the northern Cascade mountains of Washington State, Tracy is determined to get the answers she's been seeking. As she searches for the real killer, she unearths dark, long-kept secrets that will forever change her relationship to her past—and open the door to deadly danger.
My Thoughts:
Tracy Crosswhite has been looking for answers about her younger sister Sarah's abduction for twenty years. Her determination, or obsession, had cost her a marriage and had forged her career as a homicide detective in Seattle. She sees too many inconsistencies in the trial and the evidence to believe that the convicted murder Edmund House actually committed the crime.
Now, a grave has been found and Sarah is drawn back to her small town to bury her sister. There she runs into childhood friend Dan O'Leary who has returned to town as a "recovering" lawyer after his marriage crumbled. She also runs into Sheriff Roy Calloway who is still not eager for Tracy to stir up the old issues long buried.
Tracy convinces Dan to look at all the evidence that she has collected over the years. Dan agrees that things were not done well. He and Tracy go to see Edmund in prison and convince him to go to court again. This stirs up all sorts of things in Tracy's hometown and also causes issues with her at her work in Seattle. She is under pressure from a jealous superior who doesn't want her to be a part of homicide.
Digging into the past isn't easy for Tracy and being back home stirs up all sorts of emotions that she had repressed. The story, complete with flashbacks of her memories with her little sister, was an emotionally intense one. I wasn't ready for the revelation of the villain.
I couldn't put this story down. It has made me eager to look for other work by this author.
Favorite Quote:
She'd known, of course. It was why they were trained to work so hard to recover anyone abducted within the first 48 hours. After that, statistics showed the odds of finding the person alive plummeted. After twenty years, the odds of finding Sarah alive were infinitesimal. And yet there had remained that small part of her, that part Tracy shared with other families whose loved ones had been abducted and never found. It was the part of every human being that clung to hope, no matter how unlikely, that they could beat the odds.
I got this eARC from the publicists arranging the blog tour.
You can buy your copy here
.