Teaser Tuesdays is a weekly bookish meme, hosted by MizB of Should Be Reading. Anyone can play along! Just do the following:
Grab your current read
Open to a random page
Share two (2) "teaser" sentences from somewhere on that page
BE CAREFUL NOT TO INCLUDE SPOILERS! (make sure that what you share doesn't give too much away! You don't want to ruin the book for others!)
Share the title and author, too, so that other TT participants can add the book to their TBR Lists if they like your teasers!
Teaser:
Children, he remembered reading once, not only needed boundaries, but actually craved them. Boundaries were a comforting fence against the lurking dangers of absolute freedom. They were also proof that someone cared what happened to them.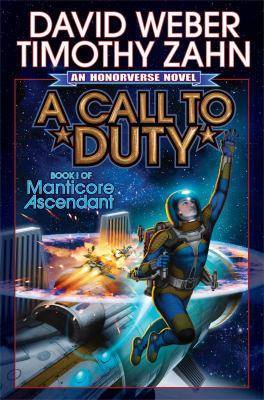 This week my teaser comes from
A Call to Duty
by David Weber and Timothy Zahn. This is the first book in a new science fiction series. Here is the description:
Growing up, Travis Uriah Long yearned for order and discipline in his life . . . the two things his neglectful mother couldn't or wouldn't provide. So when Travis enlisted in the Royal Manticoran Navy, he thought he'd finally found the structure he'd always wanted so desperately.

But life in the RMN isn't exactly what he expected. Boot camp is rough and frustrating; his first ship assignment lax and disorderly; and with the Star Kingdom of Manticore still recovering from a devastating plague, the Navy is possibly on the edge of budgetary extinction.

The Star Kingdom is a minor nation among the worlds of the Diaspora, its closest neighbors weeks or months away, with little in the way of resources. With only modest interstellar trade, no foreign contacts to speak of, a plague-ravaged economy to rebuild, and no enemies looming at the hyper limit, there are factions in Parliament who want nothing more than to scrap the Navy and shift its resources and manpower elsewhere.

But those factions are mistaken. The universe is not a safe place.

Travis Long is about to find that out.
This series is set in the same world as the Honor Harrington books but takes place many years earlier.