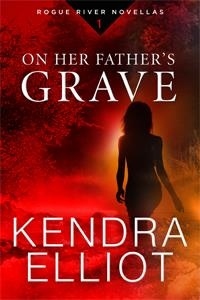 On Her Father's Grave
Author:
Kendra Elliot
Series:
Rogue River Novella Book 1
Publication:
Montlake Romance (October 7, 2014)
Description:
In a small town like Solitude, Oregon, keeping a secret can be murder.
Stevie Taylor had left her sleepy Oregon hometown for a more exciting life. But after her police chief father passes away, the LAPD cop returns to Solitude and signs on as a patrol officer, hoping to heal from her loss…and from the horrific things she's seen in the city.
In Solitude, everyone knows everyone else's business—and, to Stevie's dismay, local gossip soon ties her to the new police chief
and
a man from her past. Tragedy then shakes up the small town when a teenager dies after taking a strange new drug. Now, the seasoned LA cop must hunt down the dealer while investigating the most important case of her life, one that could divide her tranquil town.
The first of four thrilling Rogue River novellas,
On Her Father's Grave
launches a new romantic suspense series from Kendra Elliot and Melinda Leigh.
My Thoughts:
This first of four novellas introduces the town of Solitude and has a start of a romance between newly back in town Stevie and the new police chief Zane. Stevie has been a cop in LA but came home when her father - the former police chief - died of a heart attack.
Even before she is officially on the job, she is called to help interview teens at the lake where kids hang out because one of the boys died. Hunter had been perfectly healthy until he collapsed and died. The autopsy showed that he had a strange chemical in his blood. Stevie and Zane are concerned that a new drug is coming into town.
Stevie also handles the day-to-day life of a small town cop. She visits the deaf old lady who thinks someone broke in; she deals with the drug guy who doesn't work but is driving a big new truck.
Stevie is happy to be back home with her mother, her two brothers, and her sister. She had to go away to appreciate what was always there. Zane is still trying to be something other than the new guy despite being in town for five years. He is looking for a home and belonging.
This was a nice start to a romance and mystery. A lot happens in only 100 pages. The main mystery - what is the drug and who is supplying it - didn't get resolved here. I'll be eagerly reading the other three stories to find the answers to those questions and to see how Zane and Stevie's relationship is going.
Favorite Quote:
Solitude had the a main street with the usual small businesses, but no retail chains. Growing up here meant a life of outdoor recreation, family, and friends. Residents waved as cars drove by. Neighbors called to ask about your cold when you didn't show up for church.

Stevie had loved it and hated it.
I received this novella for review from the author.
You can buy your copy here
.