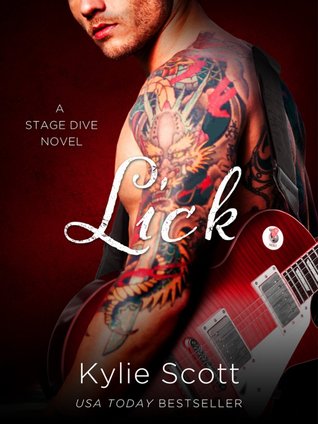 Lick
Author:
Kylie Scott
Series:
Stage Dive, Book 1
Publication:
St. Martin's Griffin; Reprint edition (November 11, 2013)
Description:
Waking up in Vegas was never meant to be like this.
Evelyn Thomas's plans for celebrating her twenty-first birthday in Las Vegas were big. Huge. But she sure never meant to wake up on the bathroom floor with a hangover to rival the black plague, a very attractive half-naked tattooed man in her room, and a diamond on her finger large enough to scare King Kong. Now if she could just remember how it all happened.
One thing is certain, being married to one of the hottest rock stars on the planet is sure to be a wild ride.
My Thoughts:
Evelyn went to Las Vegas with a friend to celebrate her twenty-first birthday - and maybe get laid. She didn't expect to wake up the next morning with the hangover from Hell and a new husband. Even worse, her new husband is David Ferris from the really hot band Stage Dive. Since she spent the whole first chapter throwing up, David was right to assume that she didn't want to stay married to him.
She goes home to Portland and he goes home to LA thinking that a quick annulment is the way to go. But when the paparazzi make her life in Portland impossible, he is quick to bring her to LA to protect her. However, his LA house is filled with bandmates, groupies, and lawyers which has Evelyn walking out again.
Both David and Evelyn are stubborn and have explosive tempers. They are also both really attracted to each other. After escaping to his house in Monterey, they begin to get to know each other and decided to give their marriage a try. But a secret that David has been keeping almost ruins it for both of them.
I liked this romance a lot. David and Evelyn were both strong, complex characters who fit each other very well. The sex scenes were spicy without being too kinky. I liked the friendships that David had with his bandmate Mal and that Evelyn had with her roommate Lauren. I can't wait to read about the rest of the band finding their true loves.
Favorite Quote:
He groaned. "Evelyn, look at me."

I did so.

"You are a constant f**king delight. I don't think anyone could ever doubt that."

"You're awful pretty when you lie."
I bought this one for my Kindle.
You can buy your copy here
.