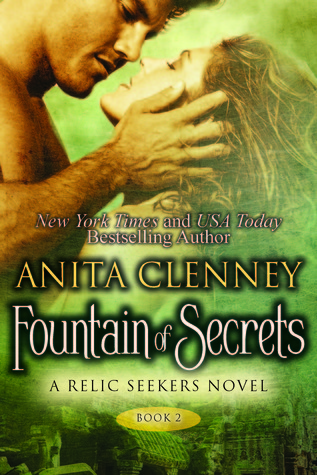 Fountain of Secrets
Author:
Anita Clenney
Series:
The Relic Seekers Book 2
Publication:
Montlake Romance (September 10, 2013)
Description:
A relics expert with a nose for mystery is torn between her sexy billionaire boss and her hot bodyguard. Each would die to save her...and win her heart.
Kendall Morgan puts her sixth sense back to work in the second book of the Relic Seekers series, divining the history and location of ancient relics. Her boss, the gorgeous billionaire Nathan Larraby, sends her to Italy to safeguard a priceless treasure belonging to the Protettori, an ancient order of monks who guard four powerful relics that Nathan believes may be the cure for his dark curse. He also sends brooding mercenary Jake Stone to watch Kendall's back—although her back isn't all Jake has his eye on.
Nathan joins them, and all three tumble into a labyrinth of defenses created by the monks to protect their treasures, including the Fountain of Youth. They find themselves in England on the trail of the legendary King Arthur, who along with the Reaper, seems mysteriously connected to the Protettori. Sparks fly and bonds are tested as Kendall and Nathan's pasts are revealed and Jake's becomes even more mysterious. The trio must stay one step ahead of the mysterious Reaper if they want to survive.
Fountain of Secrets
twists and turns through the shadows of myth and reality as Kendall races to uncover the Protettori's secrets and fight her growing attraction to her boss and her bodyguard.
My Thoughts:
This urban fantasy novel is the second book in a series and really requires that you read the first book to know what is happening. Kendall, Jake and Nathan are on the hunt for relics. Kendall has a special gift for the past that lets her touch objects and learn things. Nathan is a billionaire with a secret; he's afraid that he is turning into some kind of monster and hopes that the relics will provide a cure. Jake is a mercenary hired by Nathan to guard Kendall.
This one has time travel, traveling through portals to get to other locations on Earth, a variety of mysterious characters, and an even more mysterious enemy. Kendall and companions are looking for the Fountain of Youth and the Holy Grail as they travel from Italy to England.
There are complex relationships between the three main characters. Kendall believes that either Jake or Nathan is her long-lost friend Adam. Since both men are orphans who don't remember their childhoods, either or neither could be Adam. Jake and Kendall begin a romantic relationship in this story. Jake and Nathan have a contentious relationship with each other as they both vie for Kendall's affections.
A lot happens in this book but somehow the pace still felt slow to me. I kept feeling a need to backtrack to keep track of the many characters. Fans looking for another urban fantasy will enjoy these two books though.
Favorite Quote:
"I want to hit you harder. There's nothing going on between Nathan and me, and if there were, it's none of your business."

"You slept with me. Maybe it's a guy thing, but that feels like it makes it my business."
I bought this one when it was a Kindle Daily Deal.
You can buy your copy here
.