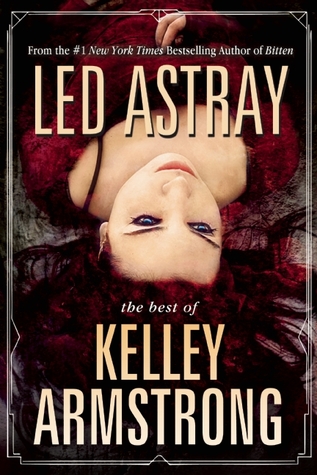 Led Astray
Author:
Kelley Armstrong
Publication:
Tachyon Publications (September 15, 2015)
Description:
Welcome to the many worlds of #1
New York Times
bestselling author Kelley Armstrong (Otherworld, Cainsville). As her
SyFy
channel series,
Bitten
, enters its second season, Armstrong continues to breathe new life into city-dwelling vampires, werewolves, and zombies. Now travel even further with her, to a post-apocalyptic fortress, a superstitious village, a supernatural brothel, and even feudal Japan.
In
Led Astray
, you'll discover the stories of new characters from within and outside Armstrong's popular novels. Here you will find two original tales from Cainsville, plus journeys to and beyond the worlds of Darkest Powers, Age of Legends, Otherworld, and more.
Bold and humorous, passionate and heart-stopping, here is Kelley Armstrong at her versatile best.
My Thoughts:
This anthology contains 23 stories set in a variety of the worlds Kelley Armstrong has created in her novels and in other fantasy worlds. My favorites where the Cainsville stories especially
Devil May Care
about how Patrick came to be Gabriel's father and
Gabriel's Gargoyles
which tells a story from Gabriel's childhood that helps explain the man he becomes.
Screams of Dragons
may be waking me up at night for quite a while as I try to decide whether the main character was already broken or if he was broken by the systematic abuse he suffers at the hands of his grandmother. Many of the stories contain more than a touch of horror with ghosts, zombies, and murderers. Many of the stories had unexpected twists to them.
All of the stories were entertaining and enjoyable. It is nice to be able to have these stories that were originally published in a variety of newspapers, magazines and anthologies in one collection.
The Door
and
Devil May Care
were original to this collection.
Fans of short stories and fans of Kelley Armstrong's work will enjoy being able to have this collection on their shelves.
I got this one for review from NetGalley.
You can buy your copy here
.