Teaser Tuesdays is a weekly bookish meme, hosted by MizB of A Daily Rhythm. Anyone can play along! Just do the following:
Grab your current read
Open to a random page
Share two (2) "teaser" sentences from somewhere on that page
BE CAREFUL NOT TO INCLUDE SPOILERS! (make sure that what you share doesn't give too much away! You don't want to ruin the book for others!)
Share the title and author, too, so that other TT participants can add the book to their TBR Lists if they like your teasers!
Teaser:
However, she knew when to push and when to negotiate. "Fine, but whoever stays with me must do so by choice—and not by your order."

When he went to argue she held up her hand.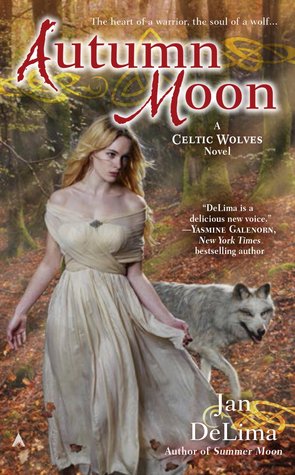 This week my teaser comes from
Autumn Moon
by Jan DeLima. I got this eARC for review from NetGalley. Here is the description from Amazon:
The author of Summer Moon returns to her "great werewolf world,"* where war looms and love may be the key to saving all of shifter kind…

For centuries, Cormack has lived between worlds—a man trapped in the body of a wolf, shunned by humans and shifters alike. Only one person has ever welcomed his company: Elen, a kindred outcast who is feared by others of her ancient Celtic race for her strange healing abilities. Cormack has always valued Elen's kindness and understanding, but after a desperate act of friendship causes Elen to free him from his curse, he realizes he wants more. He wants all of her—completely and forever.

Except before Cormack can win Elen's heart, Pendaran, the evil leader of the Guardians, captures her, determined to manipulate her incredible power to aid him in his twisted war against the shapeshifting tribes. Now Cormack must use all of his skills as a warrior and a wolf to save the woman he loves—before Pendaran's vile schemes destroy them all…