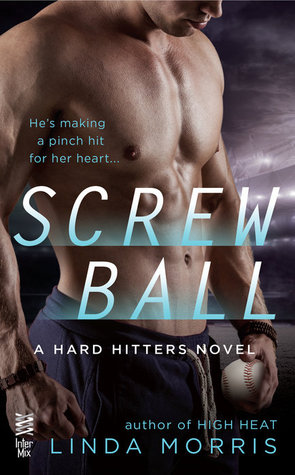 Screwball
Author:
Linda Morris
Series:
A Hard Hitters Novel (Book 2)
Publication:
InterMix (September 15, 2015)
Description:
Passion dominates the diamond in the second novel in this fun and flirty baseball romance series by the author of High Heat.
Paul Dudley, president of the Plainview Thrashers, is spinning out of control. Preserving his family's baseball legacy in these tough times takes everything he's got, and constant clashes with his father have left him struggling for authority over the team and even his own future. So when sports reporter Willow Bourne, a one-night-stand from a year ago, walks back into his life, he knows he can't give into his feelings for her—no matter how strong they are.
Willow never expected to see Paul again, and she's got her reasons for keeping her distance. Except the more time she spends around Paul, the harder it is to hide her secrets—or stop herself from falling head over heels.
As the sparks between them fly, Paul discovers what Willow has been concealing from him, leaving him with a difficult choice—keep the team his top priority or make his own legacy by following his heart...
My Thoughts:
SCREWBALL was a good example of the secret baby trope. Willow and Paul have a one-night stand in St. Petersburg one Spring. Willow finds herself pregnant, jobless and broke. She tried to find Paul to tell him about the baby but, without his last name, she didn't have any luck.
Willow has gotten a job blogging for a sports website and her first assignment is to write an in-depth profile of the Plainview Thrashers. When she arrives in Plainview and meets the team president, she learns that he is Paul Dudley - her Paul.
She doesn't know how to tell him that he is the father of her four-month-old son Jack and so neglects to mention that he is the father of her baby. Paul has enough problems without that. The ball club is owned by his father who has control of the finances and he is a real cheapskate. Paul has the job of running the team but doesn't have control of the money. He knows the team would draw better if he could put some money into the neglected stadium and field but he can't do anything with his father's micro-management.
Paul has had years of dealing with a father who put the baseball team ahead of family. He was a distant and neglectful parent who left his wife do the hands-on parenting. When she died of a heart attack when Paul was sixteen, his father had to fill in but had no idea how.
Paul and Willow have enough to deal with getting to know each other while deciding what do about their son without the bad tempered intrusions of Paul's father who has characterized Willow as a bimbo and a slut.
Willow tries to be fair but honest about the problems on the team in the profile she writes but she can't help but talk about the management problems caused by Paul's father. For Paul, who has been hiding the problems for years out of family loyalty, this honesty seems like a betrayal.
It takes time and work for Paul and Willow to find their way to a happy ending.
I got this eARC for review from NetGalley.
You can buy your copy here
.