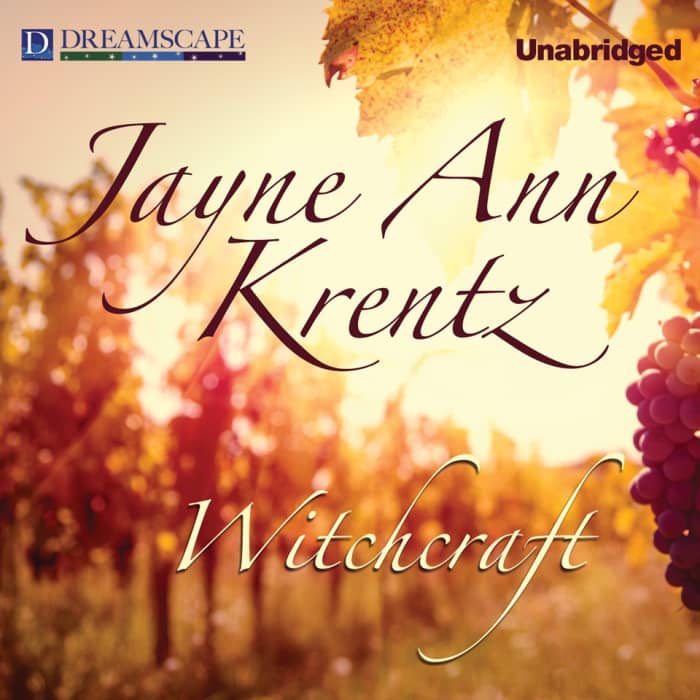 Witchcraft
Author:
Jayne Ann Krentz
Narrator:
Lesa Lockford
Publication:
Dreamscape Media (December 12, 2014)
Length:
6 hours and 29 minutes
Description:
Mystery writer Kimberly Sawyer lives alone and likes it that way. But when she is threatened by a hooded figure, and a blood-red rose with a needle thrust into its heart is left on her doorstep, she knows she needs protection. So it seems like perfect timing when Napa Valley vineyard owner Darius Cavenaugh returns to Kimberly's life, offering help and a place to stay. But how did he know she needed him? Was it the deep, intuitive intimacy of a soulmate... or was it witchcraft?
My Thoughts:
This story, originally published in 1985, was an entertaining romantic suspense title.
Kimberly Sawyer is an author who writes romances; Darius Cavenaugh is a winemaker. They meet when Kim rescues Darius's seven-year-old nephew who was kidnapped and is being kept in the house next door to her beach house. Darius vows deep gratitude and promised to help if Kim every needs anything.
A few weeks later, Kim receives a red rose which seems romantic until it warms up, opens up, and reveals a needle stuck through it. Kim in unnerved and gives Darius a call but hangs up before she talks to him. She has second thoughts about calling a man who intrigued her but is incredibly busy with his winery and his family.
Later that evening, Darius shows up at her beach house during an awful storm. He'd been thinking about her and used her call as an excuse to visit. When Kim sees a hooded figure brandishing a silver dagger outside her house, Darius manages to convince her to come stay at his home.
Kim doesn't know how she'll deal with all the activity that surrounds Dare since she has been alone since her mother's death some time earlier. Despite letters from a law firm, she has decided not to meet with the grandparents who convinced her father to divorce her mother and put both of them out of his life. Now, he's passed away and the grandparents are interested in meeting her since she's their only heir. Kim resents them for the actions they took which hurt her mother and has no interest in them or their money. She has developed an odd vision of what family responsibilities include and is trying to paint Dare with the same brush.
Dare forces a meeting which indicates to Kim that he really doesn't love or understand her and causes her to run from him. He isn't the ideal character that she had created in her mind and she is hurt despite having fallen in love with him.
It takes a dangerous situation and some actual conversation to convince her that Dare is the right man for her.
I liked both Kim and Dare and I liked the growing relationship between them despite the mutual misunderstandings that threatened to torpedo their romance.
I bought this one via a Chirp email.
You can buy your copy here
. It was $2.99 when I bought my copy.