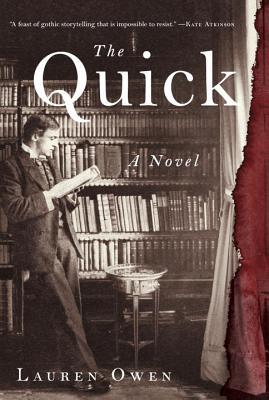 The Quick
Author:
Lauren Owen
Publication:
Random House (June 17, 2014)
Description: For fans of Anne Rice, The Historian, andThe Night Circus, an astonishing debut, a novel of epic scope and suspense that conjures up all the magic and menace of Victorian London
1892: James Norbury, a shy would-be poet newly down from Oxford, finds lodging with a charming young aristocrat. Through this new friendship, he is introduced to the drawing-rooms of high society and finds love in an unexpected quarter. Then, suddenly, he vanishes without a trace. Alarmed, his sister, Charlotte, sets out from their crumbling country estate determined to find him. In the sinister, labyrinthine London that greets her, she uncovers a hidden, supernatural city populated by unforgettable characters: a female rope walker turned vigilante, a street urchin with a deadly secret, and the chilling "Doctor Knife." But the answer to her brother's disappearance ultimately lies within the doors of the exclusive, secretive Aegolius Club, whose predatory members include the most ambitious, and most bloodthirsty, men in England.
In her first novel, Lauren Owen has created a fantastical world that is both beguiling and terrifying.
The Quick
will establish her as one of fiction's most dazzling talents.
My Thoughts:
THE QUICK was a rambling, massive chunkster of a book with a leisurely pace. The story also follows an assortment of characters. The one character who is in most of the sections is Charlotte Norbury. We follow her from her childhood in York to her death. Despite spending so much time with her, I really didn't feel that I got to know her very well. My biggest problem with the book is that I didn't feel that I got to know any of the characters very well.
Basically the story is about vampires in England who live in utmost secrecy. James Norbury, younger brother of Charlotte, moves to London after college to make his career as a writer. He becomes friends with and roommates with a man he went to college with. The friend is of a higher social status than James and is a party boy. The two of them also form a relationship that is not at all acceptable in that time or place. When they are getting ready to leave the country for Italy, they are beset by a vampire who kill the friend and turn James.
There are two sets of vampires in London. Those of high social standing have formed the Aegolius Club and are looking to recruit other men of character, worth and wealth. The second group of vampires are from the lower class and, unlike the men of the Aegolius Club, include women and children.
When Charlotte comes looking for her missing brother James, she meets people who know about the vampires and who are committed to rescuing people who catch the vampires attention. While Charlotte is determined to find a way to rescue and cure her brother, she is discouraged by those who know more. Charlotte is undaunted and spends the rest of her life trying to find a cure for her brother James.
The story was moody, had a Gothic atmosphere, and a very Victorian sensibility. It was interesting to read but not something that I would ever want to read again. Enough questions were left at the end of the story that I can see that a sequel would be possible. However, a new focus character would be needed.
Favorite Quote:
"They go looking for her?" Charlotte repeated, uncomprehendingly.

"Yes, indeed," replied Shadwell. "Many of them seek her out sooner or later. It's a terrible thing, being preserved beyond your time—and it's so difficult for them to truly die."

"They get very tired in the end," Adeline said.

"Lonely, too, I think," Shadwell added. "They are stranded outside their proper time. Everything they know will slowly pass away."
I got this book from LibraryThing's Early Reviewer program.
You can buy your copy here
.