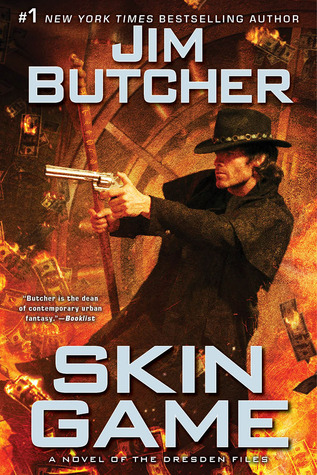 Skin Game
Author:
Jim Butcher
Series:
Dresden Files (Book 15)
Publication:
Roc Hardcover; First Edition edition (May 27, 2014)
Description:
Harry Dresden, Chicago's only professional wizard, is about to have a very bad day…
Because as Winter Knight to the Queen of Air and Darkness, Harry never knows what the scheming Mab might want him to do. Usually, it's something awful.
He doesn't know the half of it…
Mab has just traded Harry's skills to pay off one of her debts. And now he must help a group of supernatural villains—led by one of Harry's most dreaded and despised enemies, Nicodemus Archleone—to break into the highest-security vault in town, so that they can then access the highest-security vault in the Nevernever.
It's a smash and grab job to recover the literal Holy Grail from the vaults of the greatest treasure hoard in the supernatural world—which belongs to the one and only Hades, Lord of the freaking Underworld and generally unpleasant character. Worse, Dresden suspects that there is another game afoot that no one is talking about. And he's dead certain that Nicodemus has no intention of allowing any of his crew to survive the experience. Especially Harry.
Dresden's always been tricky, but he's going to have to up his backstabbing game to survive this mess—assuming his own allies don't end up killing him before his enemies get the chance…
My Thoughts:
This fifteenth book in the Dresden Files series was an exciting thrill ride as Harry has to out-think and be twistier than some very twisty characters. It is a chance for him to reconnect with old friends and see how their lives have changed while he was spending time on Demonreach.
Mab has lent Harry out to an old enemy of his. Together with other assorted untrustworthy characters, they are going to attempt to enter one of Hades' vaults in the Underworld and steal the Holy Grail from him. Harry demands backup that he can trust and first has Karrin Murphy which gives us a chance to look at the state of their relationship. After Karrin is hurt, Harry calls Michael Carpenter out of retirement to be his backup.
Along with the action and adventure, we see Harry learning more about his relationship with his daughter Maggie and learning more about what it means to be a parent.
This isn't a book for newcomers to the series because many characters from earlier books - both friends and enemies - have roles in this story. The back stories are essential to understanding what is happening. For those of us who are already fans, the story was a great chance to catch up with Harry.
Favorite Quote:
"That...that man just tried to kill you."

"No," I said. "He just tried to kill you. Seriously, dude, what part of come with me if you want to live did you not understand?"
This author is on my auto-buy list.
You can buy your copy here
.