Teaser Tuesdays is a weekly bookish meme, hosted by MizB of Should Be Reading. Anyone can play along! Just do the following:
Grab your current read
Open to a random page
Share two (2) "teaser" sentences from somewhere on that page
BE CAREFUL NOT TO INCLUDE SPOILERS! (make sure that what you share doesn't give too much away! You don't want to ruin the book for others!)
Share the title and author, too, so that other TT participants can add the book to their TBR Lists if they like your teasers!
Teaser:
And.how odd, how interestingly perverse, to be frightened by happiness. It was the dread of getting things wrong, fear of losing this friend he had (by sheer luck) managed to find.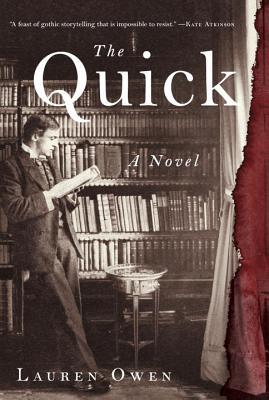 This week my teaser comes from The Quick by Lauren Owen. I won this ARC from LibraryThing's Early Reviewer program. Here is the description:
For fans of Anne Rice, The Historian, and The Night Circus, an astonishing debut, a novel of epic scope and suspense that conjures up all the magic and menace of Victorian London

1892: James Norbury, a shy would-be poet newly down from Oxford, finds lodging with a charming young aristocrat. Through this new friendship, he is introduced to the drawing-rooms of high society and finds love in an unexpected quarter. Then, suddenly, he vanishes without a trace. Alarmed, his sister, Charlotte, sets out from their crumbling country estate determined to find him. In the sinister, labyrinthine London that greets her, she uncovers a hidden, supernatural city populated by unforgettable characters: a female rope walker turned vigilante, a street urchin with a deadly secret, and the chilling "Doctor Knife." But the answer to her brother's disappearance ultimately lies within the doors of the exclusive, secretive Aegolius Club, whose predatory members include the most ambitious, and most bloodthirsty, men in England.

In her first novel, Lauren Owen has created a fantastical world that is both beguiling and terrifying. The Quick will establish her as one of fiction's most dazzling talents.
What do you think? Is this something you would add to your reading stack?