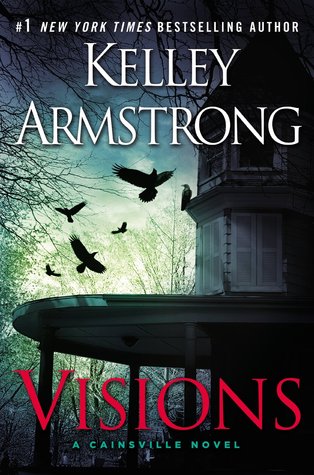 Visions
Author:
Kelley Armstrong
Series:
Cainsville (Book 2)
Publication:
Dutton Adult; 1st edition (August 19, 2014)
Description:
As #1 New York Times bestselling author Kelley Armstrong's new Cainsville series continues, Olivia's power to read omens leads to the discovery of a gruesome crime with troubling connections to her new hometown.
Omens
, the first installment in Kelley Armstrong's exciting new series, introduced Olivia Taylor-Jones, daughter of notorious serial killers, and Gabriel Walsh, the self-serving, morally ambiguous lawyer who became her unlikely ally. Together, they chased down a devious killer and partially cleared her parents of their horrifying crimes.
Their success, however, is short-lived. While Olivia takes refuge in the old, secluded town of Cainsville, Gabriel's past mistakes have come to light, creating a rift between the pair just when she needs his help the most.
Olivia finds a dead woman in her car, dressed to look like her, but the body vanishes before anyone else sees it. Olivia's convinced it's another omen, a sign of impending danger. But then she learns that a troubled young woman went missing just days ago—the same woman Olivia found dead in her car. Someone has gone to great lengths to kill and leave this young woman as a warning. But why? And what role has her new home played in this disturbing murder?
Olivia's effort to uncover the truth places her in the crosshairs of old and powerful forces, forces that have their own agenda, and closely guarded secrets they don't want revealed.
My Thoughts:
VISIONS is the fast-paced second book in the Cainsville series. The focus in this one shifts away from proving Olivia's parents innocent of being serial killers and shifts more to the town of Cainsville and the citizens and secrets there.
Olivia has found out the Gabriel has been taking money from her ex-fiance James to try to get them back together. Naturally, Olivia feels betrayed and loses trust in Gabriel at a time when she really needs someone to rely on. She is seeing all kinds of signs and portents and is also seeing various parts of Ciara Conway including her dismembered head. Since the body or head keep disappearing before anyone else sees them, Olivia isn't sure that the sightings are real.
The one thing Olivia can be sure of is that Gabriel is going to believe her and support her through visions or reality. I like the way her relationship with Gabriel is going. One of the characters suggests that Gabriel is feral and he does show some signs that that is true. His background has taught him that anyone can walk out at any time. So he is determined not to care about anyone. If you don't care, after all, you can be hurt when they leave. It takes a while for Olivia to learn this about him and to look at what he does rather than what he says.
Olivia is also having a relationship with Ricky Gallagher, who is the son of the leader of Satan's Saints, a local motorcycle gang with ties to all sorts of crime. Gabriel isn't happy about the relationship for a number of reasons. The one he states is that there could be a conflict of interest since he is the lawyer for both Olivia's mother and for Satan's Saints. Also, there might be more conflict because Olivia is now working for Gabriel as an investigator. However, Ricky is a nice guy who satisfies Olivia's need for sex and speed and she likes him.
Somehow, all of them - Olivia, Gabriel, and Ricky - are pawns in some sort of game being played by two groups of fey. And sometimes the pawns need to be sacrificed.
I enjoyed this story very much. I can't wait to read more in this series.
Favorite Quote:
My foggy brain slid away and—

And I was still dressed in only my bra and panties.

Well, at least its a nice set of bra and panties.

Yep, these were the thoughts going through my brain as I looked at a photo of a decapitated head on my bed.
I got this eARC through Penguin's First to Read program.
You can buy your copy here
.