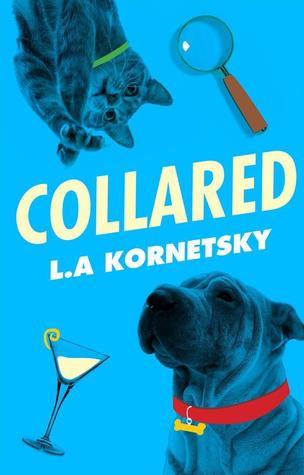 Collared
Author:
L. A. Kornetsky
Series:
A Gin & Tonic Mystery
Publication:
Gallery Books; Original edition (November 13, 2012)
Description:
They rely on animal instincts…
Meet "Gin" and "Tonic." She's a dog person. He's a cat person. But when these two friendly rivals team up to solve a mystery, you can bet their pets aren't the only ones getting collared…
Ginny Mallard and her shar-pei, Georgie, are about to run out of kibble and cash, unless she digs up another client for her private concierge business. So she heads to her neighborhood Seattle bar, Mary's, to sniff out an opportunity. Or a gimlet or two. The bartender, Teddy Tonica, is usually good for a round of challenging banter, and Georgie is oddly fond of his bar cat, Mistress Penny.
Before she can say "bottoms up," Ginny lands a job tracking down some important business papers that have gone missing—along with the customer's uncle. If Ginny hopes to track him down, she'll need more than her research skills: she'll need a partner with people skills—like Tonica.
This is one dangerous case that's about to go to the dogs—unless man, woman, cat, and canine can work together as one very unconventional crime-solving team.
My Thoughts:
COLLARED was an interesting and entertaining mystery. Ginny Mallard is a freelance concierge who handles things others are too busy or something to do. She has recently adopted a shar pei that she has named Georgie. She hangs out at a bar named Mary's when she wants to get away from home.
Teddy Tonica is the bartender at Mary's. There is also a cat that has adopted Teddy but who comes and goes at her will. Ginny and Teddy are friendly rivals at the Tuesday night trivia contests and have a relationship where one is constantly trying to one-up the other. When one of the other trivia contest participants comes to Ginny and asks her to find his uncle who has disappeared with some papers that are necessary to finalizing a business deal.
Research is Ginny's strength but people skills are definitely where Teddy shines. The two decide to work together - well, actually, she sort of dares him to help. Together they find more than they ever expected and attract the attention of some goons who don't want them looking for Uncle Joe.
What makes this unique is that the dog and the cat have conversations and spend time looking out for their humans. The cat's and dog's personalities were very realistic to the natures of cats and dogs.
I thought this story was entertaining and will be looking for the sequel to see how a second case goes for these two unlikely detectives.
Favorite Quote:
The man sitting on the other side of the desk was twice Jacob's size, a college linebacker not only gone to seed, but also sprouted. But the suit covering his mass was expensively tailored, and the intelligence inside was vicious.
I bought this one on Jan. 3, 2013. You can buy your copy here.