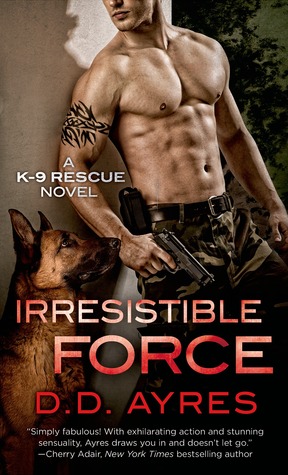 Irresistible Force
Author:
D. D. Ayres
Series:
A K-9 Rescue Novel (Book 1)
Publication:
St. Martin's Paperbacks (August 26, 2014)
Description:
When adrenaline runs high, so does the force of desire…
For Shay Appleton, it's love at first sight when a gorgeous stray dog is brought into the animal shelter where she works. She just knows he'll make a terrific watch dog—and with an abusive ex who won't let go, she needs all the protection she can get. But Shay never suspected that her new pet is actually a trained police K-9 named Bogart—until Bogart's even more gorgeous, human partner shows up on her doorstep.
Officer James Cannon is one tall, strong alpha male who's convinced that Shay stole his dog. But once he gets closer to the suspect, he realizes that this stubborn, independent woman not only needs a guard dog, she needs James as well. It seems that someone from her past is stalking her, and threatening her life. When danger meets desire, will James risk his career and his best friend…to protect the woman who's stolen his heart?
My Thoughts:
IRRESISTIBLE FORCE was an engaging romantic suspense title with, perhaps, on overabundance of stalkers. The story begins when police K-9 officer James Cannon forces his way into Shay Appleton's isolated cabin because he believes she has kidnapped his dog Bogart. Shay had rescued Bogart, who she named Prince, when someone dropped him off at the shelter where she volunteered demanding that the dog be put down.
She was glad to have Prince for protection. She had broken it off with her abusive ex Eric but he hadn't stopped harassing her by leaving gifts and constantly cornering her demanding that she come back to him. Shay had gone to the police but had retracted her statement when Eric threatened to expose her past. As a 14-year-old she had been assaulted by her mother's boyfriend and had stabbed him. The trauma of the assault stole her voice and her memory. By the time she had recovered both the boyfriend had accused her of assault which led to hospitalization for a nervous breakdown and a sealed juvenile record. Shay still suffers from anxiety attacks that are only made worse by Eric's current actions.
James wants his dog back but is also drawn to Shay. When she describes the woman who dropped Bogart off at the shelter, James recognized a former girlfriend. Since the girlfriend is a TV personality in Charlotte, she doesn't want her reputation ruined by having her actions exposed. So, she decides to sue Shay and James for attempting to defame her character. That would be bad enough but she also gets one of the guys she interviewed in prison to have one of his friends harass Shay.
This was an entertaining story. I loved the romance that grew between Shay and James. I loved how she finally came to love and trust him. I was also very taken with Bogart who was a really great character too. I liked his playful but protective relationship with Shay and his work relationship with James.
This was a great story for romance lovers and for dog lovers.
Favorite Quote:
It was the sight of Eric's smug expression, knowing he was going to get away with what he'd done, that spurred her to blurt out that their relationship was over, right there in front of the two law enforcement officers who could not help her.

Eric didn't respond but she saw the cold fury in his expression that no one else seemed to notice. there'd been a promise in his last look, and it terrified her. She knew in her bones that he was going to get even. When she let her guard down. When she stopped worrying. When she was most vulnerable.
I got this eARC from St. Martin's Press through NetGalley. You can buy your copy here.