Happy Friday everybody!
Book Beginnings on Friday is now hosted by Rose City Reader.
The Friday 56
is hosted at
Freda's Voice. Check out the links above for the rules and for the posts of the participants each week.
Don't dig for your favorite book, the coolest, the most intellectual. Use the CLOSEST.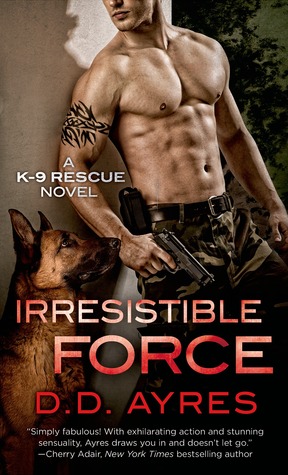 This week I am spotlighting Irresistible Force by D. D. Ayres. I saw this book while browsing Stacking the Shelves posts, requested it at NetGalley, and was approved. This romantic suspense title will be released on August 26. Here is the description:
When adrenaline runs high, so does the force of desire…

For Shay Appleton, it's love at first sight when a gorgeous stray dog is brought into the animal shelter where she works. She just knows he'll make a terrific watch dog—and with an abusive ex who won't let go, she needs all the protection she can get. But Shay never suspected that her new pet is actually a trained police K-9 named Bogart—until Bogart's even more gorgeous, human partner shows up on her doorstep.

IRRESISTIBLE FORCE by D.D. Ayres

Officer James Cannon is one tall, strong alpha male who's convinced that Shay stole his dog. But once he gets closer to the suspect, he realizes that this stubborn, independent woman not only needs a guard dog, she needs James as well. It seems that someone from her past is stalking her, and threatening her life. When danger meets desire, will James risk his career and his best friend…to protect the woman who's stolen his heart?
Beginning:
Surveillance was simple in the South in autumn. It was hunting season in North Carolina. A man dressed in camouflage and carrying a rifle in the woods didn't rate a second glance.
Friday 56:
He hunched his shoulders against her words, a sullen look creeping into his expression. "You got a dog when you know I have allergies. That was thoughtless."