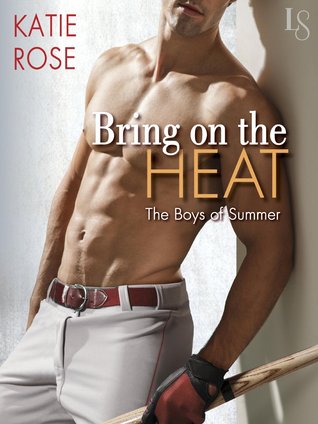 Bring on the Heat
Author:
Katie Rose
Series:
The Boys of Summer (Book 1)
Publication:
Loveswept (August 26, 2014)
Description:
In Katie Rose's irresistible battle of wits, a case of mistaken identity lands a female fan in bed with a sexy superstar—and in major-league trouble.
House-sitting for a rich and famous friend has its perks, and Darcy Hamel isn't shy about enjoying them. Especially when it means scoring a ticket to an exclusive fashion show hosted by the New Jersey Sonics. An avid baseball fan, Darcy has always dreamed of meeting the team—especially the starting pitcher whose body is as hot as his fastball. But there's a catch. The gala is by invitation only. To get behind the velvet rope, mild-mannered Darcy will have to pose as party girl Lydia Logan.
Schmoozing is one of the downsides of fame, but Chase Westbrook knows how to liven up even the dullest event. And nothing spices a night up more than a beautiful socialite with a naughty reputation. What Chase doesn't expect is a hint of sweetness beneath her sultry façade. Flirtation turns to seduction and leaves him aching for more. Chase just doesn't know who the real Lydia is: the spoiled tease crying foul over some missing diamonds or the alluring woman making a play for his heart.
My Thoughts:
This is the romance between Darcy Hamilton, house sitter, and Chase Westbrook, major league pitcher. Darcy is a big baseball fan. So when she is offered the chance to attend a fund raiser and meet the team by using her employer's invitation, she jumps at it. Her employer Lydia Logan tells her to borrow appropriate clothing from her closet. Darcy never expects to be mistaken for Lydia but, once she is, she has a hard time clearing things up. She meets Chase at the party and his is attracted to her - or is he attracted to Lydia?
Darcy has too much to drink and goes home with Chase but passes out before the have sex. When she awakens early the next morning, her first impulse is to go home but she forgets the diamond earrings that she borrowed from Lydia. She has to keep up the impersonation long enough to get Lydia's earrings back.
Chase, meanwhile, wants to stay close to Lydia because her grandfather has an interest in the Yankees and they are the team that he wants to play for. Being with the Yankees would meet his father's criteria for success.
Both characters have ulterior motives but they also get to know each other and fall in love. This was a nice romance. Fans of sports romances will enjoy this one.
Favorite Quote:
Darcy waved at the air, ignoring the glances she got from an elderly gentleman as she made her way back to the table. She'd gone to the ladies' room, where she'd ditched the Spanx, unwilling to be uncomfortable one more minute. The hell with her tummy.
I bought this one for me Kindle.
You can buy your copy here
.