Happy Friday everybody!
Book Beginnings
on Friday is now hosted by
Rose City Reader
.
The Friday 56
is hosted at
Freda's Voice
. Check out the links above for the rules and for the posts of the participants each week. Don't dig for your favorite book, the coolest, the most intellectual. Use the CLOSEST.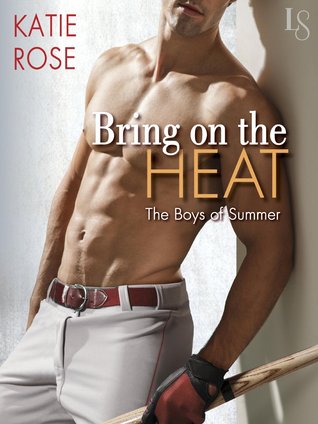 This week I am spotlighting
Bring on the Heat
by Katie Rose. This is the first book in the Boys of Summer spicy romance series. I am a big fan of sports romances and couldn't resist when I saw that this book was only $.99 (although it's back to $2.99 now). Here is the description from Amazon:
In Katie Rose's irresistible battle of wits, a case of mistaken identity lands a female fan in bed with a sexy superstar—and in major-league trouble.

House-sitting for a rich and famous friend has its perks, and Darcy Hamel isn't shy about enjoying them. Especially when it means scoring a ticket to an exclusive fashion show hosted by the New Jersey Sonics. An avid baseball fan, Darcy has always dreamed of meeting the team—especially the starting pitcher whose body is as hot as his fastball. But there's a catch. The gala is by invitation only. To get behind the velvet rope, mild-mannered Darcy will have to pose as party girl Lydia Logan.

Schmoozing is one of the downsides of fame, but Chase Westbrook knows how to liven up even the dullest event. And nothing spices a night up more than a beautiful socialite with a naughty reputation. What Chase doesn't expect is a hint of sweetness beneath her sultry façade. Flirtation turns to seduction and leaves him aching for more. Chase just doesn't know who the real Lydia is: the spoiled tease crying foul over some missing diamonds or the alluring woman making a play for his heart.
Beginning:
Darcy Hamilton pulled up to the Moorestown estate in her 2005 blue Honda Civic. The car was good on gas, but appeared a little battered in the luxurious cul-de-sac lined with million-dollar homes and BMWs.
Friday 56:
The car arrived far too quickly, and Chase reluctantly let her go as he leaned forward and opened the door. "Whew," he said, grinning at her in admiration. "I knew you were gorgeous, but goddamn."