Happy Friday everybody!
Book Beginnings on Friday is now hosted by Rose City Reader.
The Friday 56
is hosted at
Freda's Voice. Check out the links above for the rules and for the posts of the participants each week.
Don't dig for your favorite book, the coolest, the most intellectual. Use the CLOSEST.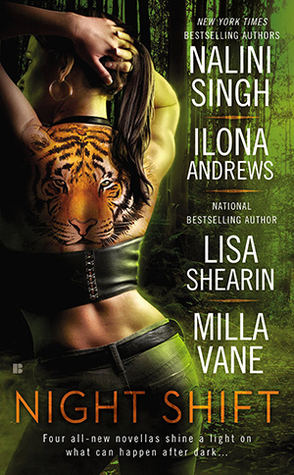 This week I am spotlighting
Night Shift
, an anthology with stories by Nalini Singh, Ilona Andrews, Lisa Shearin and Milla Vane. I bought this one for my Kindle a while ago and have been waiting for a gap in my review calendar to fit it in. Here is the description from Amazon:
Four masters of urban fantasy and paranormal romance plunge readers into the dangerous, captivating world unearthed beyond the dark...

New York Times bestselling author Nalini Singh delivers a smoldering story with Secrets at Midnight, as the scent of Bastien Smith's elusive lover ignites a possessiveness in him that's as feral as it is ecstatic. And now that he's found his mate, he'll do anything to keep her.

In #1 New York Times bestselling author Ilona Andrews' novella, Magic Steals,when people start going missing, shapeshifting tigress Dali Harimau and jaguar shifter Jim Shrapshire must uncover the truth about the mysterious creatures responsible.

From Milla Vane—a warrior princess must tame The Beast of Blackmoor to earn a place among her people. But she quickly discovers that the beast isn't a monster, but a barbarian warrior who intends to do some taming himself.

It's seer Makenna Frazier's first day on the job at Supernatural Protection and Investigations, and her first assignment is more than she bargained for when bodyguard duty for a leprechaun prince's bachelor party goes every which way but right in national bestselling author Lisa Shearin's Lucky Charms.
Beginning:
Bastien Smith knew he'd been suckered.
Friday 56:
"I really need to strangle him. Surely, my folks wouldn't notice one less son."