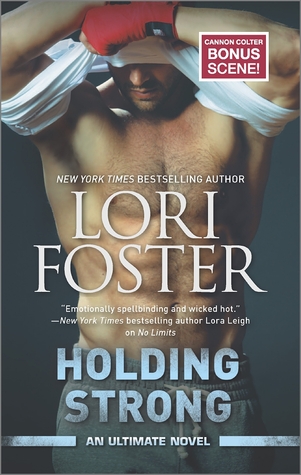 Holding Strong
Author:
Lori Foster
Series:
Ultimate
Publication:
HQN Books (March 31, 2015)
Description:
An up-and-coming MMA fighter wants more than just one night from a woman fleeing her past in New York Times bestselling author Lori Foster's irresistible new novel
Heavyweight fighter Denver Lewis plays real nice, but he doesn't share. That's why he's been avoiding top-notch flirt Cherry Peyton. But a man can only resist those lush curves for so long. Their encounter surpasses all his fantasies, bringing out protective urges that Cherry's about to need more than she knows…
Denver's combination of pure muscle and unexpected tenderness has been driving Cherry wild. Yet no sooner does she get what she's been craving than old troubles show up on her doorstep. And this time, Cherry can't hide behind a carefree facade. Because the man by her side is one who'll fight like hell to keep her safe…if only she'll trust him enough to let him…
My Thoughts:
This is the second novel in the Ultimate series. This time it is the romance between Denver Lewis and Cherry Payton. Though they are part of the same circle of friends, Denver has been successful at avoiding Cherry. He thinks she is just a flirt and he wants a woman who wants only him. But when danger comes after Cherry in the person of the three foster brothers she ran from when she was seventeen, all of Denver's protective instincts rise up and he is determined to protect her.
Cherry has rebuilt her life since running away and now is a cheerful and confident woman who is really in love with Denver. When trouble comes, she is just as eager to protect Denver as he is to protect her.
The love scenes are spicy and the tension palpable in this fast-paced romantic suspense title. I liked Cherry very much. Denver was less likeable for me. He read as much older than he was with his chauvinism. I was surprised when I did the math to find out that he was only 26. I would have thought he was in his mid-forties. His penchant for calling Cherry "Girl" seemed odd for someone who was only three years older.
Once I got over Denver's quirks, I really enjoyed the story. I also liked seeing characters I knew from earlier books by the author. I look forward to reading more about this group of friends and watching these tough, masculine fighters find their loves.
Favorite Quote:
Did she think he got this involved with every woman he'd slept with? Soon he'd have to explain a few things to her.

Once he'd figured them out himself.
I got this eARC from NetGalley.
You can buy your copy here
.