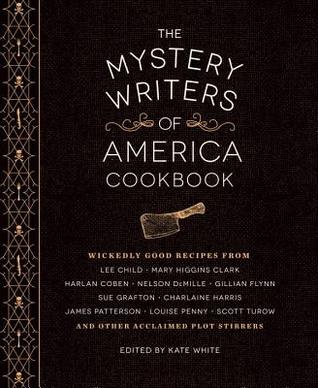 The Mystery Writers of America Cookbook: Wickedly Good Meals and Desserts to Die For
Editor:
Kate White
Publication:
Quirk Books (March 24, 2015)
Description:
Hard-boiled breakfasts, thrilling entrees, cozy desserts, and more--this illustrated cookbook features more than 100 recipes from legendary mystery authors. Whether you're planning a sinister dinner party or whipping up some comfort food perfect for a day of writing, you'll find plenty to savor in this cunning collection. Full-color photography is featured throughout, along with mischievous sidebars revealing the links between food and foul play. Contributors include Lee Child, Mary Higgins Clark, Harlan Coben, Nelson DeMille, Gillian Flynn, Sue Grafton, Charlaine Harris, James Patterson, Louise Penny, Scott Turow, and many more.
My Thoughts:
These recipes run the gamut from three ingredients found in every kitchen to a dozen that I swear I'd have to buy over the internet. I liked the introductions of each recipe by the author who linked the recipe to one of their books or to a family memory.
While I'm going to pass on Sue Grafton's Peanut Butter & Pickle Sandwich, I think I might give Louise Penny's recipe for Tourtiere a try some day. I liked the nice assortment of recipes from appetizers to desserts and drinks.
Mamma's Pimento Cheese as given by Susan M. Boyer sounds great even though I haven't heard of some of the cheeses she calls for. I'm also a little intimidated by the idea that it makes 3 quarts. I don't think I know enough people to share that amount with. I can't wait to try David Housewritght's Corn Chowder recipe.
I liked the variety of authors whose recipes were included. I've read many of them including Charlaine Harris, Carolyn Hart, Diane Mott Davidson, Laurie R. King and Catherine Coulter. I was also encouraged to try books and series by other authors because I liked the recipes they included and want to meet their characters.
People looking for a cookbook to go with what they're reading would be the perfect audience for this collection.
Favorite Quote
(about Sue Grafton's Peanut Butter & Pickle Sandwich):
I've received letters from readers who are completely aghast at the notion of eating this culinary wonder. Others actually try it despite their misgivings.
I received this book for review from Quirk Books.
You can buy your copy here
.