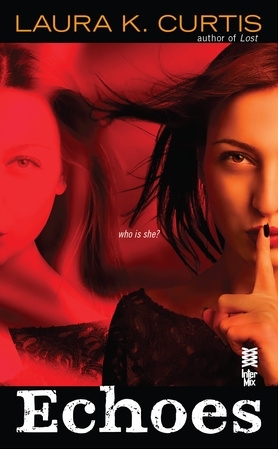 Echoes
Author:
Laura K. Curtis
Series:
Mind Games
Publication:
InterMix (March 17, 2015)
Description:
Who is she?
A single photo of herself as an infant on a beach, taken before the date on her birth certificate, throws everything Calliope Pearson knows about herself into question. Hoping to find answers, she takes advantage of her job as a travel writer to make a reservation at the Caribbean island resort in the picture.
Resort security chief Mac Brody distrusts Callie on sight. After all, she looks exactly like his deceitful missing wife, Nikki, who owns half the resort. But when Nikki's found dead, Mac's facing murder charges, and he's sure that Callie must hold the key to proving his innocence.
The deeper Callie and Mac dive into the mystery of her past, the more bodies surface. And they'll have to learn to trust each other, or become victims of a dark danger neither could've imagined….
My Thoughts:
Callie Pearson is a travel writer who traveled the world with her father when she was younger. After his death, she discovered a mysterious photo that indicated that she was born before the date on her birth certificate and somewhere different than she thought. She needs to find out what happened and what secrets her parents were keeping.
Callie travels to the lovely island of St. Martin's and discovers a whole secret history and finds herself in all sorts of danger. From the crazy person who wants to use her body parts to cure his imperfections to the arms dealer who thinks she knows more than she does, Callie finds herself in well over her head in danger.
When she arrives at the resort that is in her mysterious picture, she meets two men. John Lewis is the charismatic older man who owns the resort. Mac Brody is the head of security. Mac distrusts her immediately because of her resemblance to his missing wife. Lewis's response to her is more difficult to categorize. When danger threatens it is Mac Brody - former Atlanta cop and former soldier - who comes to her rescue as they try to find out about Callie's past and Mac's wife's disappearance.
This romantic suspense title had a sort of vintage feel for me despite the current technology talked about in the book. It reminded me of the Isabelle Holland romances I read in the 1980s. I liked the characters. I thought Callie and Mac's romance was realistic and done well. I liked the setting. I would be interested in reading more books in this series.
Favorite Quote:
Although Callie's were darker, both women's eyes shared a slight, almost erotic tilt. Nikki emphasized hers with black liner and dark shadow. And lies. Nikki's eyes were filled with them, though it had taken him too damned long to figure that out. Calliope Pearson, on the other hand, didn't seem able to lie worth a damn, though she was giving it the old college try.
I got this eARC for review.
You can buy your copy here
.