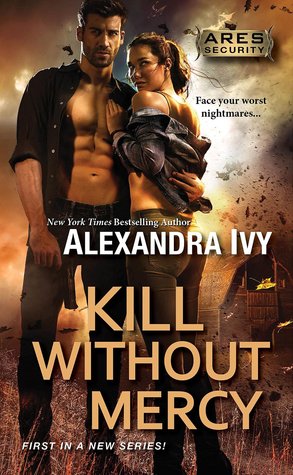 Kill Without Mercy
Author:
Alexandra Ivy
Series:
Ares Security (Book 1)
Publication:
Zebra (December 29, 2015)
Description:
From the hellhole of a Taliban prison to sweet freedom, five brave military heroes have made it home--and they're ready to take on the civilian missions no one else can. Individually they're intimidating. Together they're invincible. They're the men of ARES Security.
Rafe Vargas is only in Newton, Iowa, to clear out his late grandfather's small house. As the covert ops specialist for ARES Security, he's eager to get back to his new life in Texas. But when he crosses paths with Annie White, a haunted beauty with skeletons in her closet, he can't just walk away--not when she's clearly in danger.
There's a mysterious serial killer on the loose with a link to Annie's dark past. And the closer he gets, the deeper Rafe's instinct to protect kicks in. But even with his considerable skill, Annie's courage, and his ARES buddies behind him, the slaying won't stop. Now it's only a matter of time before Annie's next--unless they can unravel a history of deadly lies that won't be buried.
My Thoughts:
This is the first book in a new romantic suspense series. It introduces the five men who make up Ares Security but it focuses on Rafe Vargas. Rafe is gorgeous and the heart of the group. He is a covert ops specialist and a natural leader. He has come from Texas to Newton, Iowa, to pack up his grandfather's home and put it up for sale. He is filled with resentment for the way his grandfather treated his father and wants to get things done and get out of town.
Annie White has also come to Newton. She hasn't been back since she was ten. The town holds mostly bad memories for her. Her father was accused of being the Newton Slayer and brutally killing seven women. After being arrested, he died in jail in an apparent suicide leaving Annie in a state of shock and an orphan dumped into the foster care system. Annie has visions and, after many years, these visions have returned. She has come back to Newton in hopes of finding a reason for the visions and closure.
Rafe takes one look at her and decides that he needs to protect her. Annie is afraid that the only reason he's attracted is because of his savior complex. As a new series of young women are being taken, the danger heats up for Annie and Rafe since the killer is leaving messages for Annie. As they investigate the learn that what Annie remembers from the past isn't necessarily what happened and that the town has lots of secrets.
I liked the relationship between Annie and Rafe. I also liked the relationship between Rafe and his partners in Ares Security. They are a group of men who went through hell together as prisoners in Afghanistan and who have forged bonds stronger than brothers. They have made each other their families.
I'll be eager to read the stories of the other men who make up Ares Security.
Favorite Quote:
It was more than the usual fantasy of getting a beautiful female naked. Or the pleasure of seducing her into his grandfather's antique bed.

It was the primitive male urge to make sure she was well fed and comfortable in a place he was providing for her. And that nothing and no one could get past his defenses to harm her.

I bought this one. You can buy your copy here.