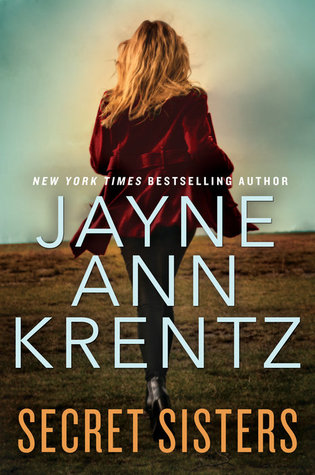 Secret Sisters
Author:
Jayne Ann Krentz
Publication:
Berkley (December 8, 2015)
Description: Madeline and Daphne were once as close as sisters—until a secret tore them apart. Now it might take them to their graves.
They knew his name, the man who tried to brutally attack twelve-year-old Madeline in her grandmother's hotel. They thought they knew his fate. He wouldn't be bothering them anymore...ever. Still their lives would never be the same.
Madeline has returned to Washington after her grandmother's mysterious death. And at the old, abandoned hotel—a place she never wanted to see again—a dying man's last words convey a warning: the secrets she and Daphne believed buried forever have been discovered.
Now, after almost two decades, Madeline and Daphne will be reunited in friendship and in fear. Unable to trust the local police, Madeline summons Jack Rayner, the hotel chain's new security expert. Despite the secrets and mysteries that surround him, Jack is the only one she trusts...and wants.
Jack is no good at relationships but he does possess a specific skill set that includes a profoundly intimate understanding of warped and dangerous minds. With the assistance of Jack's brother, Abe, a high-tech magician, the four of them will form an uneasy alliance against a killer who will stop at nothing to hide the truth....
My Thoughts:
This was another excellent romantic suspense title by Jayne Ann Krentz. Madeline has recently inherited her grandmother's boutique hotel chain after her death in a fire in her penthouse suite. Now she is called back to to Cooper Island in Washington by the caretaker of the hotel she and her grandmother had fled eighteen years earlier. She arrives just in time to hear the dying caretaker's last words and escape from whoever killed him. Her immediate response to call her head of security Jack Reyner.
Jack has started his own security company and was hired by Madeline's grandmother. Madeline tried to ease him out of the contract when she took over. But Jack wasn't willing to go. Jack is quick to head from Arizona to Washington to help Madeline. And together with Abe's brother and Madeline's childhood friend, they find themselves deep in a conspiracy with assorted murders that has its roots in the past.
The story is filled with secrets that are now coming to light and people who will do anything to keep the secrets buried. The trauma that sent Madeline and her grandmother away from the island has impacted all of Madeline's relationships. She is used to relationships not lasting because of her trust issues. Jack is also relationship-shy. However, they are both stubborn people who are attracted to each other. The way they courted wouldn't be universally approved but certainly worked for them.
I also liked the relationship between Jack's brother Abe and Madeline's friend Daphne. This is the first time I recall a Krentz book with a secondary romance going on. The strengths of this book include the relationships between the characters both the romances and the friendships.
The story also has an abundance of villains with a variety of motives. Xavier Webster was one creepy sociopath but the rest of his family was also scary. Throw in hedge fund hijinks and political ambitions and you have a story ripe with tension.
Fans of romantic suspense won't want to miss this exciting story.
Favorite Quote:
Perspective was everything. And yet nothing. The predators were out there, regardless of the size of your world, Madeline thought. But so was friendship. You just had to reach out and make it happen.

Maybe, just maybe, it was the same with love.
I was chosen on Facebook to be part of the review team. The publisher provided me with a free copy of this book in exchange for my honest opinion.
You can buy your copy here
.