Teaser Tuesdays is a weekly bookish meme, hosted by MizB of A Daily Rhythm. Anyone can play along! Just do the following:
Grab your current read
Open to a random page
Share two (2) "teaser" sentences from somewhere on that page
BE CAREFUL NOT TO INCLUDE SPOILERS! (make sure that what you share doesn't give too much away! You don't want to ruin the book for others!)
Share the title and author, too, so that other TT participants can add the book to their TBR Lists if they like your teasers!
Teaser:
"It's a stable career with growth potential." She mouthed the words she'd heard since she was ten years old.

"Did that come on the brochure?" he teased, holding out a hand as she jerked her head up to send him a warning glare. "Okay, okay. I didn't mean to offend you. I'm guessing that it's more functional than the job of your deepest fantasy."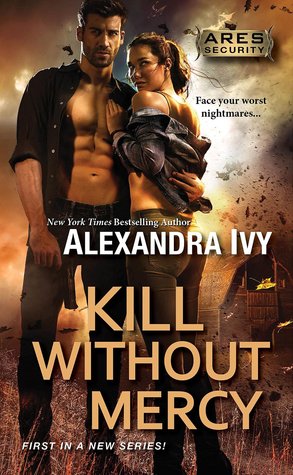 This week my teaser comes from
Kill Without Mercy
by Alexandra Ivy. This romantic suspense story begins a new series for the author. I got this eARC from Kensington via NetGalley. Here is the description:
From the hellhole of a Taliban prison to sweet freedom, five brave military heroes have made it home--and they're ready to take on the civilian missions no one else can. Individually they're intimidating. Together they're invincible. They're the men of ARES Security.

Rafe Vargas is only in Newton, Iowa, to clear out his late grandfather's small house. As the covert ops specialist for ARES Security, he's eager to get back to his new life in Texas. But when he crosses paths with Annie White, a haunted beauty with skeletons in her closet, he can't just walk away--not when she's clearly in danger. . .

There's a mysterious serial killer on the loose with a link to Annie's dark past. And the closer he gets, the deeper Rafe's instinct to protect kicks in. But even with his considerable skill, Annie's courage, and his ARES buddies behind him, the slaying won't stop. Now it's only a matter of time before Annie's next--unless they can unravel a history of deadly lies that won't be buried.