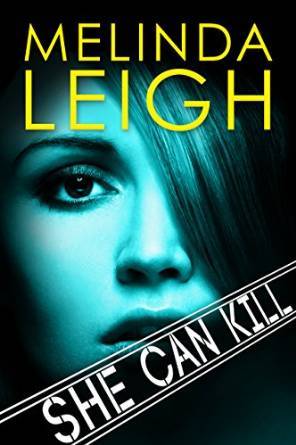 She Can Kill
Author:
Melinda Leigh
Series:
She Can series
Publication:
Montlake Romance (December 8, 2015)
Description:
Reformed assassin Cristan Rojas just wants to raise his daughter in peace. But after twelve years on the run, he learns that even the quiet little town of Westbury, Pennsylvania, has many hidden dangers. Although he can't shake the feeling he's under surveillance, Cristan's attraction to Sarah Mitchell continues to grow, as do his concerns that his secret past could jeopardize anyone who gets too close to him.
Sarah is ready to start her life over with her children, a new job, and a budding romance. Her newfound happiness is threatened when her ex-husband becomes increasingly violent—and she soon learns her ex isn't the only person stalking her.

Cristan fears someone from his past has arrived in town, someone far worse than a jealous ex. Someone who may be responsible for a brutal—and unsolved—murder a dozen years ago. To protect Sarah and his daughter, he must shine a light into the darkest recesses of his nightmarish past.
My Thoughts:
Melinda Leigh has written another engaging romantic suspense novel. Cristan and his daughter Lucia have been on the run for twelve years. Every since they survived the massacre of all of his wife's family, they have been hiding and trying to stay away from the leader of the rival criminal family who has vowed to wipe out Cristan's entire family. Now that Lucia is thirteen, she is not as easily uprooted and Cristan hopes to be able to stay in quiet, little Westbury, Pennsylvania. But settling down leaves them open to being found.
Cristan has rebuilt his life; he is no longer the orphan from Buenos Aires who was taken in by a gun runner and raised to be his loyal soldier. He would very much like to live in peace.
Sarah is also trying to rebuild her life. She has finally divorced the man whose last tantrum broke her arm and gave her a concussion. She wants to make a good life for herself and her daughters but her ex-husband is threatening her and harassing her. Since he is able to put on the charm when he needs to, he has convinced a judge to allow unsupervised visitation with their two young daughters.
Cristan and Sarah have gotten to know each other because Lucia babysits for the girls.
Soon both are being threatened. We know that Sarah's main threats come from her ex-husband Troy. Cristan's threats are coming from an unnamed viewpoint character that could be the woman who has sworn revenge or someone else from his past.
I enjoyed this thriller and had to keep reading to find out where the threats were coming from. I also enjoyed watching both Cristan and Sarah open up to a new relationship despite the bad relationships each had had in the past.
Fans of romantic suspense won't want to miss this latest book in the SHE CAN series.
Favorite Quote:
Sean waited until Mike left the diner. Then he ate the last bite of his pie. "If Troy hurts Sarah again, I'll help you dispose of the body." Though his grin and tone suggested humor, his eyes were serious.

"I suppose it's good to have friends."

"Damned straight."

But having an ally didn't mitigate Cristan's worries. Troy was unaccounted for. Who knew what he was planning?
I bought this one. You can buy your copy here.