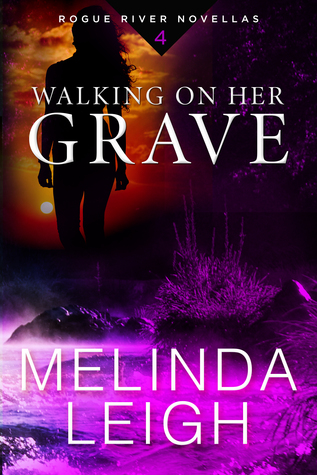 Walking on Her Grave
Author:
Melinda Leigh
Series:
Rogue River Novella (Book 4)
Publication:
Montlake Romance (November 18, 2014)
Description:
The electrifying conclusion of the romantic suspense novella series from Melinda Leigh and Kendra Elliot.
The sleepy town of Solitude, Oregon, has turned into ground zero for a turf war between the manufacturers and distributors of a lethal new drug. When a teenage witness disappears, social worker Carly Taylor must find him before he's silenced permanently.
Rogue County investigator Seth Harding wants to keep Carly, his estranged wife, out of harm's way, but she refuses to let his concern keep her from doing her job. When one of her young charges vanishes, Carly gets pulled even deeper into the deadly case, and Seth knows he must help her…even if it leads them right into the criminals' crosshairs.
Explosive and exciting to the last page,
Walking on Her Grave
is the fourth and final thrilling addition to the new romantic suspense series from Melinda Leigh and Kendra Elliot.
My Thoughts:
The conclusion to the Rogue River novellas was just as intense and fast-paced as the earlier stories. Carly and Seth are tentatively trying to rebuild their marriage while both are involved in trying to stop the drug problem growing in their town.
This story starts with a fire. The resort started by the O'Rourkes to add to the economic stability of Solitude catches fire. Seth and Carly were fishing near by and Seth rushes in and manages to save two of the three men trapped inside. Carly keeps him from going in after the third which saves his life. The thought of losing Seth when he takes another chance with his life makes Carly decide to accelerate their reconciliation.
However, Seth and Carly have to find a way to overcome Seth's protective instincts. He is trying to remind himself that Carly is a strong and competent woman but those protective instincts are a very large part of his personality. It was nice to see him allow Carly to be herself and do what she needed to do especially when one of her young clients disappears.
The story was action-packed and filled with danger. I think a good part of it took place in the local ER where either Carly or Seth were getting patched up after dangerous encounters.
I thought the conclusion was satisfying and the whole quartet of novellas well-written. Fans of romantic suspense and of novellas will enjoy these stories.
Favorite Quote:
Their marriage had been loud and turbulent like the rapids a quarter mile upstream. With a strong undercurrent, this lull was just as frightening, with just enough hope to destroy her if reconciliation proved impossible.
I got this eARC from NetGalley.
You can buy your copy here
.