Teaser Tuesdays is a weekly bookish meme, hosted by MizB of A Daily Rhythm. Anyone can play along! Just do the following:
Grab your current read
Open to a random page
Share two (2) "teaser" sentences from somewhere on that page
BE CAREFUL NOT TO INCLUDE SPOILERS! (make sure that what you share doesn't give too much away! You don't want to ruin the book for others!)
Share the title and author, too, so that other TT participants can add the book to their TBR Lists if they like your teasers!
Teaser:
She had never been down here. It was off-limits to the staff, but Jake didn't take well to orders. The lower level was in chaos. Armed guards ran past them, shouting instructions.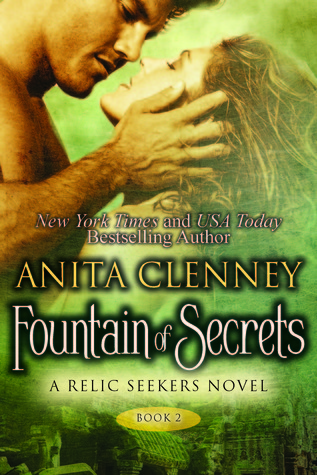 This week my teaser comes from
Fountain of Secrets
by Anita Clenney. I bought this one for my Kindle when it was a Kindle Daily Deal. Here is the description from Amazon:
A relics expert with a nose for mystery is torn between her sexy billionaire boss and her hot bodyguard. Each would die to save her...and win her heart.

Kendall Morgan puts her sixth sense back to work in the second book of the Relic Seekers series, divining the history and location of ancient relics. Her boss, the gorgeous billionaire Nathan Larraby, sends her to Italy to safeguard a priceless treasure belonging to the Protettori, an ancient order of monks who guard four powerful relics that Nathan believes may be the cure for his dark curse. He also sends brooding mercenary Jake Stone to watch Kendall's back—although her back isn't all Jake has his eye on.

Nathan joins them, and all three tumble into a labyrinth of defenses created by the monks to protect their treasures, including the Fountain of Youth. They find themselves in England on the trail of the legendary King Arthur, who along with the Reaper, seems mysteriously connected to the Protettori. Sparks fly and bonds are tested as Kendall and Nathan's pasts are revealed and Jake's becomes even more mysterious. The trio must stay one step ahead of the mysterious Reaper if they want to survive.

Fountain of Secrets twists and turns through the shadows of myth and reality as Kendall races to uncover the Protettori's secrets and fight her growing attraction to her boss and her bodyguard.