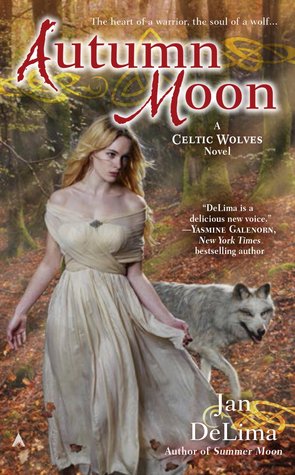 Autumn Moon
Author:
Jan DeLima
Series:
A Celtic Wolves Novel
Publication:
Ace (September 29, 2015)
Description:
The author of Summer Moon returns to her "great werewolf world,"* where war looms and love may be the key to saving all of shifter kind…
For centuries, Cormack has lived between worlds—a man trapped in the body of a wolf, shunned by humans and shifters alike. Only one person has ever welcomed his company: Elen, a kindred outcast who is feared by others of her ancient Celtic race for her strange healing abilities. Cormack has always valued Elen's kindness and understanding, but after a desperate act of friendship causes Elen to free him from his curse, he realizes he wants more. He wants all of her—completely and forever.
Except before Cormack can win Elen's heart, Pendaran, the evil leader of the Guardians, captures her, determined to manipulate her incredible power to aid him in his twisted war against the shapeshifting tribes. Now Cormack must use all of his skills as a warrior and a wolf to save the woman he loves—before Pendaran's vile schemes destroy them all…
My Thoughts:
This was an entertaining romantic fantasy which is the third book in a series. I do not recommend beginning with this story because there are only references to events that happened earlier in the series and I found them more confusing than helpful. Living among us but hidden from us are immortal being from Welsh mythology. They are fighting a war between those who are pure-blooded and can shift between their human and wolf identities and those who intermarried with humans who are not all able to shift. Some are born able to shift, others are born human and can't shift, and still others are born as wolves with human minds.
This story centers around Elen who was born human but who has substantial and unique magical powers which have made her very attractive to the leaders of the Guardians - the pure bloods. Pendaran who leads the Council of Guardians wants to control Elen and use her powers. Cormack is her romantic partner. Apparently he was one of those who was born wolf and couldn't shift to human until Elen did something to him in one of the earlier books. Cormack has lived with Elen as a wolf for three hundred years and loved her all that time. Now he has to learn to deal with a human body and has to learn if Elen can also love the man as she had loved the wolf.
I liked the relationship between Cormack and Elen. I thought their scenes together, at least once they cleared up their misunderstandings, were very romantic. I thought the book had lots of adventure too as Elen has to deal with betrayal and imprisonment. I liked that Cormack never gave up on finding her after she was taken by Pendaran.
This was an interesting story with wonderful world building. I would recommend reading the first two books in the series before reading this one though.
Favorite Quote:
"Do you really have to ask, Elen?"

"Yes." She nodded as blood pounded against her temples. "Yes, I do."

"You hold my heart in your hands, and even if you don't want it, it won't matter because I am lost either way. I am yours. Do with me what you will."
I got this eARC for review from NetGalley.
You can buy your copy here
.