Happy Friday everybody!
Book Beginnings
on Friday is now hosted by
Rose City Reader
.
The Friday 56
is hosted at
Freda's Voice
. Check out the links above for the rules and for the posts of the participants each week. Don't dig for your favorite book, the coolest, the most intellectual. Use the CLOSEST.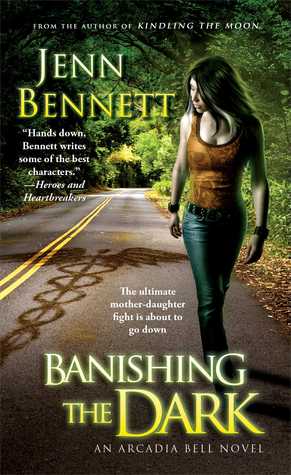 This week I am spotlighting
Banishing the Dark
by Jenn Bennett which is the fourth book in the Arcadia Bell urban fantasy series. I discovered this series this past summer when I pulled the first book off TBR mountain and fell in love. Here is the description of this book:
In Book Four of the beloved urban fantasy series Romantic Times calls one "for your keeper shelf," the ultimate mother-daughter fight is about to go down.

Complicated does not begin to describe Arcadia Bell's life right now: unnatural magical power, another brush with death, and a murderous mother who's not only overbearing but determined to take permanent possession of Cady's body. Forced to delve deep into the mystery surrounding her own birth, she must uncover which evil spell her parents cast during her conception...and how to reverse it. Fast. As Cady and her lover Lon embark on a dangerous journey through her magical past, Lon's teenage son Jupe sneaks off for his own investigation. Each family secret they uncover is darker than the last, and Cady, who has worn many identities--Moonchild, mage, fugitive--is about to add one more to the list.
Beginning:
Jupe crouched in the shadows, watching a pair of nurses stroll down the hall. Cartoon horses on the female nurse's scrub pants stretched over a pretty good ass. Good enough that he considered following her. After all, he's analyzed forty-three nurses over the past month. Only two of them even remotely qualified as hot, and one of those was a guy.
Friday 56:
Lon Butler's home.

What the hell was I doing here?

I groaned, struggling to remember as I pushed a fuzzy gray blanket away and stood.