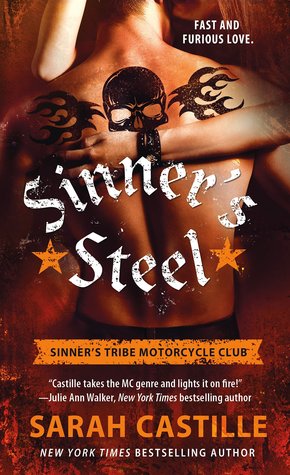 Sinner's Steel
Author:
Sarah Castille
Series:
The Sinner's Tribe Motorcycle Club (Book 3)
Publication:
St. Martin's Paperbacks (October 6, 2015)
Description:
HE'S HELL ON WHEELS.
Tall, dark, and dangerously handsome, Zane "Tracker" Colter is the strong, silent type of tattooed muscle biker who drives women wild. But as a master of strategy for the outlaw MC club, Sinner's Tribe, he doesn't have time to play around with groupies and biker chicks-especially when he can't stop thinking about Evie, the girl who got away...
SHE'S PLAYING WITH FIRE.
Evie's been in love with Zane ever since they were children-until he broke her heart and disappeared. Now he's back in her life, bigger and badder than ever. Zane is stunned by how beautiful and confident Evie's become, using her artistic talent to customize motorcycles. He wants her so bad, he'd ride through fire to win her back. There's one problem: Evie is dating his deadliest rival-the leader of the Black Jacks-and if Evie and Zane hook up, there'll be hell to pay... in
Sinner's Steel.
My Thoughts:
This is Evie and Zane's romance. They were childhood friends who sheltered and protected each other from the bad home lives they both had. Zane was abused by his drunken and drug addicted father. Evie lived with her alcoholic mother and her police officer father who was always gone. After their first sexual encounter was interrupted by Evie's father, both Zane's father and Evie's father were shot to death and Zane would have been a suspect if he hadn't run. He disappeared from Evie's life leaving her pregnant with his son.
Nine years pass and they reconnect. Evie is now an artist who customizes motorcycles and Zane is the Vice President of an outlaw motorcycle club. Unfortunately, Evie has attracted the attention of the President of a rival motorcycle club which makes beginning a relationship with Zane very dangerous both for her heart and for her life.
This story gives a good picture of life in a motorcycle club - a life I wouldn't choose for all the money in the world. Like me, Evie isn't sure that she can ever accept the way things are inside the club. When Zane is beaten for disobeying the club president, he accepts it as a logical consequence but Evie is ready to break up with him over it.
I enjoyed the romance as both had to learn to trust each other again and forgive each other and themselves for the things that happened in the past. They also had to find a way reconcile their different lifestyles in the present.
This wasn't a sweet romance. It was dark and gritty. Both Evie and Zane have sexual kinks that, luckily, they both share. Between murders, fires, and kidnappings the action in the story was gritty and dark too.
Fans of the series and fans of dark romances will enjoy this intense story.
Favorite Quote:
"Whatever it takes for you to trust me, I'll do." He wrapped his hand around her neck and leaned down to kiss her cheek. "If you want me to go slow, I'll go slow. If you need gentle, I'll be gentle. I will do what it takes, however long it takes. But I won't let anyone else have you. You are mine, Evie. You've been mine since you were eight years old. And now that I've found you again, I'm not gonna let you go."
I got this eARC from St. Martin's Press via NetGalley. You can buy your copy here.