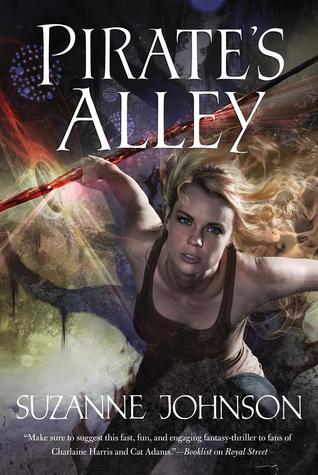 Pirate's Alley
Author:
Suzanne Johnson
Series:
Sentinels of New Orleans (Book 4)
Publication:
Tor Books (April 21, 2015)
Description:
After vanquishing undead serial killers and discovering the dark secrets of her family history, wizard sentinel DJ Jaco must now stop the coming preternatural war in Suzanne Johnson's
Pirate's Alley.
Wizard sentinel DJ Jaco thought she had gotten used to the chaos of her life in post-Katrina New Orleans, but a new threat is looming, one that will test every relationship she holds dear.
Caught in the middle of a rising struggle between the major powers in the supernatural world--the Wizards, Elves, Vampires and the Fae--DJ finds her loyalties torn and her mettle tested in matters both professional and personal.
Her relationship with enforcer Alex Warin is shaky, her non-husband Quince Randolph is growing more powerful, and her best friend Eugenie has a bombshell that could blow everything to Elfheim and back. And that's before the French pirate Jean Lafitte, newly revived from his latest "death," returns to New Orleans with vengeance on his mind. DJ's assignment? Keep the sexy leader of the historical undead out of trouble. Good luck with that.
Duty clashes with love, loyalty with deception, and friendship with responsibility as DJ navigates passion and politics in the murky waters of a New Orleans caught in the grips of a brutal winter that might have nothing to do with Mother Nature.
War could be brewing, and DJ will be forced to take a stand. But choosing sides won't be that easy.
My Thoughts:
This fourth book in the Sentinels of New Orleans is the most action-packed yet and DJ has more than her hands full trying to keep those she loves safe. There is a power struggle going on win the new Counsel. The wizards and the elves have a tentative plan to be allies but the fae, the vampires, and the other groups are also all jockeying for power.
Unfortunately, the leader of the wizards who is supposed to be her boss is just as morally bankrupt as the leaders of the other factions. When he demands that she cause her friend Eugenie to lose her child because the child could cause political difficulties, DJ finds the line that she won't cross. But it leaves DJ in a difficult position because there is no one that she can trust completely.
The elf that she is bonded to - Quince Randolph - doesn't want anything to happen to his child but he doesn't care at all about Eugenie who is the child's mother. She can't trust her lover and fellow enforcer Alex because he is still living in a black and white world and holding to his promises to the wizard's for some stability.
The Pirate Jean Lafitte is a potential ally but he has his own agenda too. They do get a chance to clarify their relationship in this one which amounts to friendship. Lafitte is also maneuvering to form his own core of allies because he sees that a war is coming.
This story was filled with plotting and betrayals and all sorts of political maneuvering all taking place in a New Orleans that is being hit with winter weather like never before experienced. And DJ has developed a new issue since her bonding with Rand, when she gets cold enough, she goes into a state of hibernation. This is so not the time for her to be at anything but her best.
This was an engaging story with a cliffhanger ending. I want another book in this series now!
Favorite Quote:
Preternatural creatures were like poor relations after a big lottery win. Once you let them inside, they have no inclination to leave.
I bought this one. You can buy your copy here.